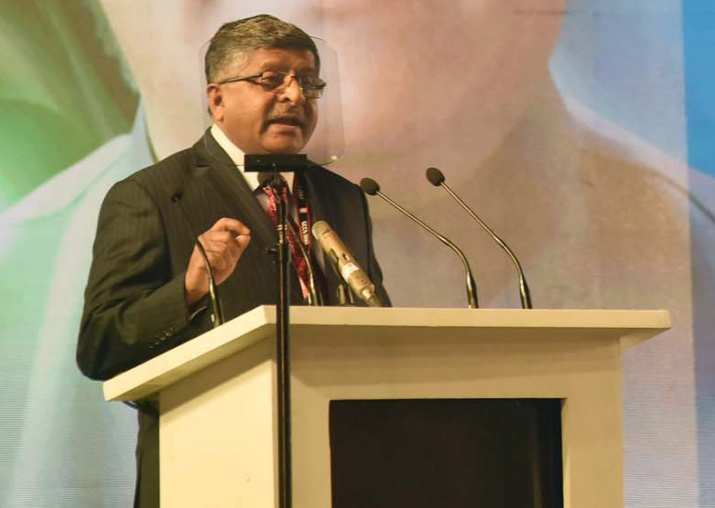 Information and Technology Minister Ravi Shankar Prasad today said that radical elements and terrorists are abusing social media platforms for perpetuating hate and terror but India is determined to address the misuse of cyber space and thwart them.
Addressing the inaugural session of the fifth edition of the Global Conference on Cyber Space (GCCS) here, Prasad underlined the need to keep cyber space safe and secure for a better digital future.
"Our government has effectively used social media for giving voice to the unheard but it is equally true that radical elements and terrorists are abusing this medium for perpetuating hate and terror. Radicalisation of young people through tools of social media poses grave threat to humanity," Ravi Shankar Prasad said.
"The world needs to come together to address the misuse and abuse of cyber space by terrorists and hackers," he added. 
Thousands of delegates from 131 countries and ministers from 26 countries are in the capital to attend the two-day event.
"Misuse of Internet for child pornography is posing grave threat to childhood. Financial frauds and cyber attacks can eliminate the trust of ordinary citizens in cyber space. Therefore, we all need to speak in one voice against cyber crimes," Prasad stressed. 
He spoke about some of his government's initiatives like "Bharat Net" and Aadhaar to provide easy and affordable access to technology to Indians.
"While India talks about inclusive cyber space, it also means democratisation of Internet governance. India has been advocating for multi-stake holder approach of Internet governance so that not only the governments but also the other stake holders become an active participant in managing one of the greatest innovation of mankind," the minister said. 
Prasad said that to protect the privacy of individuals, India has put in place a strong law with respect to Aadhaar and was also working towards a comprehensive data protection law. 
"There is a need for striking a balance in data availability, data utility, data innovation, data anonymity and data privacy," he noted. 
Later, addressing a plenary session at the event, the minister said the borderless virtual world of cyber space is creating a new world order. 
"In this new world order, collaboration and cooperation among nation states is entering into a new phase. Rules of engagement relating to international concerns including cyber warfare, cyber espionage, cyber-crime need to be evolved," Prasad added. 
There are several opportunities for international cooperation beyond cyber security and cyber defence.
"A number of countries have requested us to support for creating Aadhaar like ID infrastructure in their country. We are receiving similar requests for other digital platforms," the minister informed.
The Global Forum of Cyber Expertise, of which India is a co-chair, is creating collaboration in enhancing requisite human capacity in nation states to develop technology. 
According to Prasad, the country today has nearly 1.1 billion mobile phones, nearly 500 million Internet connections and about 400 million smart phones.
"India is also among the world's fastest growing digital economies. With 6.2 billion downloads, it is the country with world's largest Android app downloads. It has largest users of Facebook, Twitter and WhatsApp in the world," Prasad said.