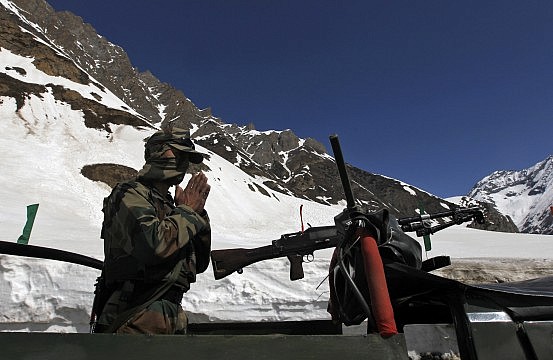 To deal with the rising incidents of Chinese incursions in Ladhak and Arunachal Pradesh, India has deployed Sukhoi-30MKI fighters, missiles and drones in the border areas.
According to a Times of India report, the Indian Air Force (IAF) will activate its Pasighat advanced lading ground (ALG) in West Siang district of Arunachal Pradesh in order to address the stark military asymmetry with the People's Liberation Army. 
The ALG, which is capable of operating aircraft and helicopters, will be inaugurated by MoS for Home Affairs Kiren Rijiju and Eastern Air Command chief Air Marshal C Hari Kumar. 
"The ALG will not only improve our response time to different operational contingencies, but also the efficacy of the overall air operations on the eastern front," an IAF officer was quoted by Times of India as saying. 
Pasighat is the fifth ALG to become operational in Arunachal. 
"While Ziro, Along, Mechuka and Walong ALGs are now operational, Tuting should be ready by December 31 and Tawang by April 30 next year," said the officer.
Moreover, the government has approved several infrastructure development projects in the Andaman and Nicobar Command (ANC), which has been a victim of politico-bureaucratic indifference and military turf wars since 2001 when it was established as India's first theatre command. 
To counteract China's strategic moves in the Indian Ocean region, India is regularly deploying Sukhoi-30MKI fighters, C-130J Super Hercules aircraft, anti-submarine warfare Poseidon-8I aircraft and long-range patrol at the Andaman and Nicobar Command. 
On the contrary, road and rail connectivity along the 4,057 km Line of Actual Control (LAC) remain a major concern for India as it witnesses transgressions by Chinese troops almost daily. 
Only 23 out of 73 roads, which were identified for construction along the LAC have been completed till now, whereas 14 strategic railway lines remain in the pipeline.      
Last month, reports had also emerged that India has deployed around 100 tanks to the northern region of Ladakh along its border with China. Indian military officials have cited a surge in China's military presence on its side of the border as the reason behind the deployment. 
This was the third deployment by the Indian Army to the region since 2014. 
The border conflict between the two sides in 1962 was followed by an all-out Sino-Indian war. 
The Indian Navy has also dispatched three ships to the South China Sea, where parts of it are claimed by several countries including Malaysia.
Beijing has been ramping up its infrastructure and military presence in the border region for the past few years, making it a cause of concern for New Delhi.