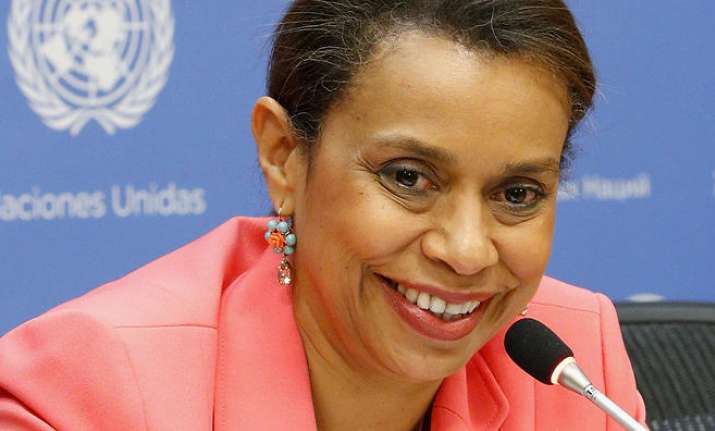 Reiterating their commitment to make the world free of nuclear weapons, 122 countries of the world adopted a treaty that calls for completely banning the nuclear weapons. The treaty was adopted at a UN meeting which was boycotted by all nine nations that are believed to possess nuclear weapons. These nine countries are - United States, Russia, Britain, China, France, India, Pakistan, North Korea and Israel. Many of the allies of these nine nations also did not attend the meeting.
To loud applause, Elayne Whyte Gomez, president of the UN conference that has been negotiating the legally binding treaty, announced the results of the "historic" vote - 122 nations in favour, the Netherlands opposed, and Singapore abstaining.
"We have managed to sow the first seeds of a world free of nuclear weapons," Whyte Gomez said. "We (are) ... saying to our children that, yes, it is possible to inherit a world free from nuclear weapons."
"The world has been waiting for this legal norm for 70 years," since atomic bombs were dropped on Hiroshima and Nagasaki in August 1945 at the end of World War II, she said.
Setsuko Thurlow, who was a 13-year-old student in Hiroshima when a US nuclear bomb destroyed the city, said survivors "have worked all our lives to make sure that no other human beings should ever again be subjected to such an atrocity."
In a joint statement, the UN ambassadors from the United States, Britain and France said their countries don't intend to ever become party to the treaty.
They said it "clearly disregards the realities of the international security environment" and "is incompatible with the policy of nuclear deterrence, which has been essential to keeping the peace in Europe and North Asia for over 70 years."
The treaty offers no solution to "the grave threat posed by North Korea's nuclear program, nor does it address other security challenges that make nuclear deterrence necessary," the three ambassadors said.
The US, Britain and France along with other nuclear powers instead want to strengthen the nearly half-century-old Nuclear Non-proliferation Treaty, considered the cornerstone of global non-proliferation efforts.
That pact sought to prevent the spread of atomic arms beyond the five original weapons powers - the US, Russia, Britain, France and China. It requires non-nuclear signatory nations to not pursue atomic weapons in exchange for a commitment by the five powers to move toward nuclear disarmament and to guarantee non-nuclear states access to peaceful nuclear technology for producing energy.
All NATO members boycotted the treaty negotiations except for the Netherlands, which has US nuclear weapons on its territory and was urged by its parliament to send a delegation. The Netherlands deputy UN ambassador Lise Gregoire-Van-Haaren told delegates her country couldn't vote for a treaty that went against its NATO obligations, had inadequate verification provisions or that undermined the NPT - and "this draft does not meet our criteria."
(With AP inputs)