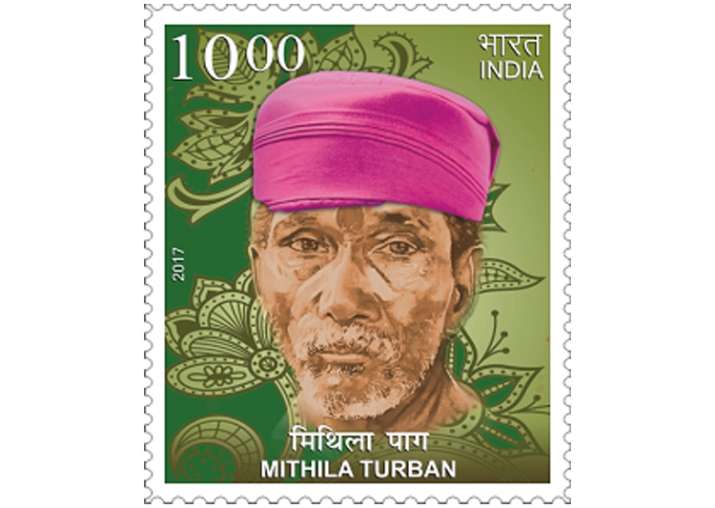 The central government has for the first time issued a postal stamp featuring Mithila Paag (turban) in recognition of the age-old cultural symbol.
"Stamping the cultural identity and heritage of Mithila Paag by the postal department is a great honour to Mithilanchal and crores of people from here are happy," Birbal Jha, chairman of Mithilalok Foundation, an organisation working for socio-cultural and economic development of Mithila, said on Thursday here.
He said a wave of happiness has spread among Maithils all across India and abroad. Notably, a campaign, "Save the Paag", launched by the foundation a few years back registered a tremendous response with more than one crore Maithils joining it.
"Such a move by central government is of course a morale booster to the cultural activists in the country. This timely recognition of Paag at the national level will certainly strengthen the socio-cultural fabric of India," Jha said.
The postal department, in its booklet on Headgears of India termed Mithila Paag a "headgear hailing from the Mithila region of Bihar worn by Maithil people."
"The Paag carries a lot of respect and is worn by the people of Mithila with pride. The Paag dates back to pre-historic times when it was made of plant leaves. It exists today in a modified form. Paags are of different shades, colours and shapes," it read.
A Paag Exhibition held in last year's World Trade Fair in New Delhi was a hit. Also, thousands of people of Mithila, wearing the Paag, participated in Paag March in New Delhi and Bihar.
A paag song written by Birbal Jha and sung by popular Maithili singer Vikash Jha is a super hit. The song appeals to Maithils to wear Paag, rising above caste, creed and gender in order to protect traditional culture of the land.
Women, once deprived of Paag, have shown great interest in joining the campaign and walking shoulder to shoulder with men.