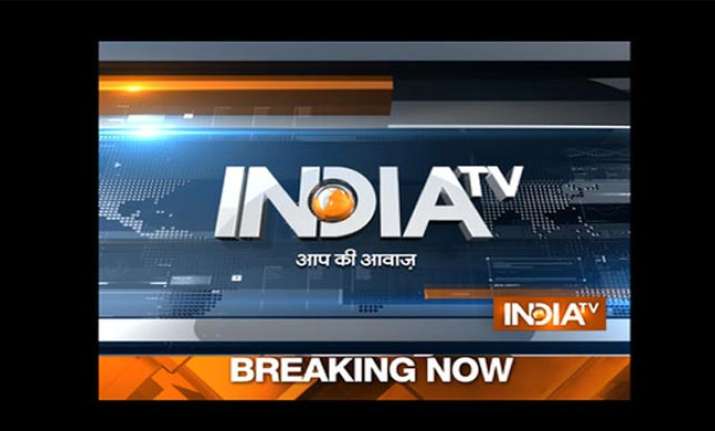 National News
As bandh wrecks Karnataka, CM Siddaramaiah seeks PM Modi's intervention
With "extreme unrest" taking over the state of Karnataka due to release of Cauvery water to Tamil Nadu, Chief Minister Siddaramaiah today requested Prime Minister Narendra Modi to intervene into the matter and end the ongoing impasse. Read more
Pak cannot escape responsibility of terror attacks by saying it is non-state: S. Jaishankar
Hardening its stance against Pakistan, India today said the concept of state actors and non-state actors on the issue of terrorism is a "false dichotomy" and a state cannot escape responsibility by hiding behind it. Read more
Rahul becomes first member of Nehru-Gandhi family to visit Ayodhya after 1992 Babri demolition
On fifth day of his ongoing 'Kisan Yatra' in Uttar Pradesh, Congress vice-president Rahul Gandhi today visited Ayodhya and offered prayers at the famous Hanuman Garhi temple. Read more
All parties will be taken into confidence on Kashmir issue: Home Minister Rajnath Singh
Union Home Minister Rajnath Singh today asserted that the government will take into confidence all parties while adapting measures to bring peace and normalcy in Kashmir. Speaking for the residents of the valley, he said that it is "very difficult" for people to bear unrest for long. Read more
On its final trial tomorrow, super-fast Talgo to run from Delhi to Mumbai in 12 hours
In what could be a bliss for the passengers, the Delhi-Mumbai Talgo train will embark on its final trail run tomorrow, aiming to cover the distance in less than 12 hours at a speed of 150 km per hour. Read more
International News
North Korea confirms its 'biggest ever' nuclear test
North Korea said Friday it successfully carried out its fifth nuclear test. The announcement on state media came hours after a seismic event was detected near its nuclear test site. It is Pyongyang's fifth atomic test and the second in eight months. Read more
26/11 probe: Another accused gets free run as Pakistan says 'no proof' against him
Despite conclusive evidences being already handed out by India for due probe by Pakistan in the 26/11 Mumbai attack case, the neighbouring country's Federal Investigation Agency (FIA) has dropped charges against an accused citing  lack of evidence. Read more
Pak was nearly placed on list of state sponsors of terror, reveals ex-CIA official
In a latest revelation from an ex-CIA official, it has been surfaced that Pakistan was "nearly placed" on a formal US list of state sponsors of terrorism during 1993 to 1994. Read more
Business News
Want to return to India but my passport is revoked: Mallya to Delhi court
Beleaguered liquor baron Vijay Mallya on Friday informed a Delhi court that he wants to come to India but is unable to travel back as his passport has been suspended by Indian authorities. Read more
PepsiCo's Indra Nooyi second most powerful woman in Fortune list
PepsiCo CEO and Chairman Indra Nooyi has been ranked second in Fortune's list of 51 most powerful women of the world. Read more
Samsung offers discount of over 60 pc on Galaxy S7 and S7 edge smartphones
Samsung Electronics has now come up with a new offer in order to compete with its rivals in the upcoming festive season in India. The tech giant is offering an impressive "exchange offer" on its Galaxy S7 and Galaxy S7 Edge smartphones which will allow customer enjoy a rebate of up to 62 per cent on the expensive devices. Read more
Entertainment News
Birthday Special: Know why Rajiv Bhatia chose the name Akshay Kumar
New Delhi: If there is one actor right now in Bollywood whose name wreaks success these days, it is superstar Akshay Kumar. No matter what genre he picks up, his movie do tremendous business at the box office. The superstar is celebrating his celebrating his 49th birthday today. Read more
Kapil's tweet makes Narendra Modi's fans angry, gets bombarded with hate comments on Twitter
It seems that with his complaint to Prime Minister Narendra Modi, comedian and actor Kapil Sharma has started problems for himself. Kapil, today tweeted to the PM about the alleged corruption in Mumbai's civic body. In return, Kapil became the receiver of hate comments from ardent online  supporters of the Prime Minister. Read more
How to deal with break up, Katrina style: Diva reveals what do when heartbroken
Break ups are tough whether you are a celebrity or a common person. Making one person your universe only to see them go away is hard. While one may get many suggestions on how to cope up with a break up, actress Katrina Kaif too has something to say on this matter. Read more
Sports News
Serena Williams crashes out of US Open, loses top spot
Top-seeded Serena Williams fell to 10th seeded Czech tennis player Karolina Pliskova in the US Open semifinals on Friday. Read more
Aditya Verma writes to PM on sports bill
Aditya Verma, the petitioner in the IPL spot-fixing scandal, has written to Prime Minister Narendra Modi warning that the enactment of the sports bill could result in the government taking control of the BCCI.Verma's latest warning comes at a time when the BCCI faces a twin deadline to implement sweeping reforms in the powerful Board, as recommended by the Supreme Court appointed Lodha Panel.
Bowlers lead India A fightback on day two
Bowlers led India A's fightback as the visitors eked out a two-run lead against Australia A on day two of the first unofficial four-day Test at the Allan Border Field here today.Speedster Varun Aaron (3/41) came up with timely blows before off-spinner Jayant Yadav struck thrice to end Australia's first innings at 228. India had squandered a solid start on day one to be 230 all out.