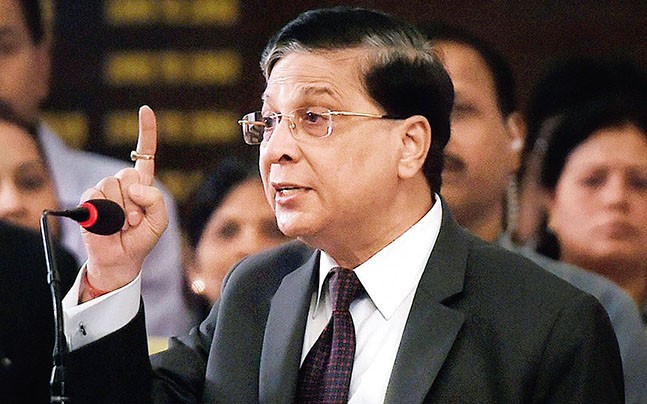 A five-judge constitution bench was on Monday constituted in the Supreme Court to hear on Tuesday the petition moved by two Congress MPs challenging the rejection of the impeachment notice against Chief Justice of India Dipak Misra by Rajya Sabha Chairman M Venkaiah Naidu. 
The list of business for the Supreme Court showed that the petition, which was mentioned on Monday, would be heard tomorrow by a bench comprising Justices A K Sikri, S A Bobde, N V Ramana, Arun Mishra and A K Goel. 
While Justice Sikri, who will head the bench, is number six in the seniority list, others follow him in the sequence of seniority. 
It is significant that the matter has not been listed before the judges who are number two to five in the seniority. 
These judges -- Justices J Chelameswar, Ranjan Gogoi, M B Lokur and Kurian Jospeh -- had held the controversial January 12 press conference in which they had virtually revolted against the CJI by raising a litany of allegations against him. 
Earlier in the day, senior advocate Kapil Sibal, who was one of the signatories to the impeachment notice in the Rajya Sabha, had mentioned the matter for urgent listing before a bench headed by Justice J Chelameswar, the senior-most after CJI Misra. 
While Justice Chelameswar initially asked him to mention the matter before the CJI, the bench, also comprising Justice S K Kaul, later asked Sibal and advocate Prashant Bhushan to "come back tomorrow". 
Two Congress Parliamentarians from Rajya Sabha- Pratap Singh Bajwa and Amee Harshadray Yajnik, on Monday, approached the Supreme Court challenging Vice-President M Venkaiah Naidu's dismissal of the impeachment motion against CJI Dipak Misra. 
Both the Congress MPs claimed in their petition that once the initiation of removal motion is signed by the requisite number of MPs, the Vice-President has no option but shall constitute an Inquiry Committee to investigate the allegations against the CJI Dipak Misra.
(With PTI inputs)