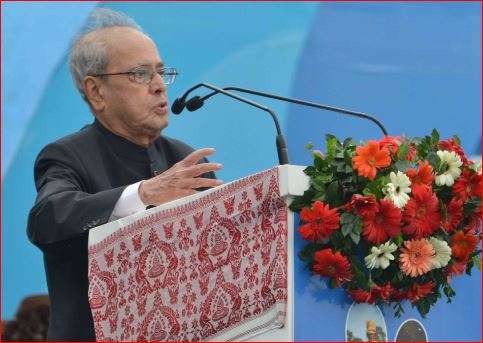 President Pranab Mukherjee on Friday made it clear that he does not agree with those who label Indians as intolerant.
He pointed out that Indians could be argumentative but not intolerant as India's traditions never allowed "intolerance" to be practiced in the country.
The President  further added that unity in diversity with mutual coexistence and understanding has always been the strength of India.
"There are 200 languages spoken in India across its length and breath. All major seven religions are practised in India. Nowhere in the world is found so much ethnic diversity," President Mukherjee said while speaking at the inaugural ceremony of the 'Namami Brahmaputra' in Guwahati.
"We are one nation. This mutual co-existence, mutual understanding is our strength. Managing this diversity is our greatest strength. If it is said Indians are argumentative, I will agree. But if it is said Indians are intolerant, I refuse to agree. Intolerance has never been allowed," he added
Mukherjee said Assam, which is an emerging economic hub of India, is perfectly positioned to become the corridor of the country to the ASEAN nations as the 'Act East' policy takes forefront.
He said India would soon celebrate 25 years of its link with the Association of Southeast Asian Nations (ASEAN).
The President said South East Asia is an important destination for India's investment and trade.
Stating that Assam has "immense development potential", Mukherjee added that inland water transport system in the National Waterways can change its economic scenario.
"The development of this national waterway can give Assam access to international ports like Chittagong in Bangladesh.
This will give Assam an exposure to international trade and commerce. With the Act East Policy taking forefront, Assam is perfectly positioned to become the corridor of the country to the ASEAN nations," he said.
Mukherjee hailed Assam's richness in natural resources and its hardworking people to underline that all it needed was "strong drive, right policies and effective implementation." 
"We have to join hands to make the dream of Bharat Ratna Gopinath Bordoloi - first Chief Minister of Assam becoming a front runner in the field of socio-economic progress-- a reality," he said.
The President said Assam has overcome a prolonged spell of insurgency and the central government is supportive in rebuilding the state. 
(With PTI inputs)