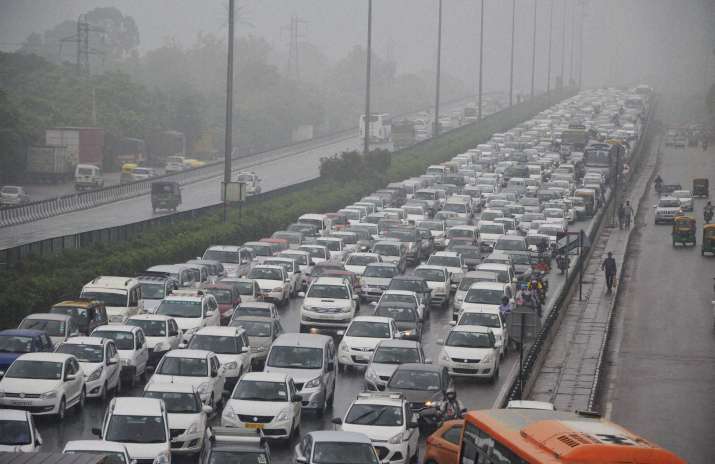 It has been over 18 hours but traffic on the Delhi-Gurgaon Expressway is still crawling after incessant rainfall led to waterlogging in several parts of the city, leaving commuters stranded for hours. This morning, the district administration issued a notification advising schools and offices to remain shut in view of the flooding and traffic mess.
Many motorists abandoned their vehicles and waded through knee-deep water which accumulated on both the carriageways of Delhi-Jaipur road, including Hero Honda Chowk, bringing traffic to a standstill with the tailback extending up to 15-20 kilometers. Some MNCs also declared a day off in Gurgaon as their vehicles which pick and drop employees were stranded in traffic.
As the millennium city struggles to limp back to normalcy, a blame game has erupted between the BJP government in the state and the opposition parties including the Aam Aadmi Party and Congress.
Congress leader Randeep Surjewala alleging that the BJP government in the state is responsible for "destroying" Gurgaon.
"This type of situation has never happened in the millennium city. We warned the Khattar government after the first rains. They cannot say the Congress was in power. Now, we are no longer in power... BJP has an MP, all MLAs and corporations are of BJP. The state and central governments are of BJP. What have you done in the law 24 months?" he asked.
Quicker to reach New York from Delhi then Delhi-Gurgaon. BJP & @mlkhattar Govt. destroying Gurgaon as India's global hub . #16HoursOfJam

— Randeep Singh Surjewala (@rssurjewala) July 29, 2016
Congress vice-president Rahul Gandhi too attacked the Manohar Lal Khattar government for the situation and accused it of ignoring basic infrastructure in Gurgaon.
"As BJP passes the buck, Gurgaon chokes. What an awful ordeal for commuters especially ambulances that may have been stuck for hours," he tweeted.

The Aam Aadmi Party (AAP) also lashed out at the BJP government for 'poor planning'.
"That's BJP's governance," Delhi CM Arvind Kejriwal tweeted taking a dig at Haryana's BJP government.
Thats BJP's governance https://t.co/GDCyrWLxGZ

— Arvind Kejriwal (@ArvindKejriwal) July 29, 2016
"Renaming Gurgaon to Gurugram will not ensure development. Policy formulation and subsequent implementation of these policies is important for development," Deputy CM Manish Sisodia said.
गुड़गांव का नाम गुरुग्राम रखने से विकास नहीं होता। विकास के लिए योजनाएं बनाना और उनपर अमल करना ज़रूरी होता है। जुमलों से जाम नहीं खुलेगा।

— Manish Sisodia (@msisodia) July 29, 2016
"Monster Traffic jam in Gurgaon because there is an incompetent CM in Haryana. There is a corrupt govt; because there is Khattar," another AAP leader Ashutosh tweeted.
Monster Traffic jam in Gurgaon because there is an incompetent CM in Haryana. There is a corrupt govt; because there is Khattar.

— ashutosh (@ashutosh83B) July 29, 2016
Haryana Chief Minister Manohar Lal Khattar, on the other hand, sought to blame the Delhi government for the mess.

This tweet was, however, later deleted from his account.
Life thrown out of gear
Heavy rainfall since Thursday evening has led to inundated roads and flooding on one of the most important roads of the NCR.
"National highway is blocked we are working on it, we hope situation will be improved soon. All departments are at work," Gurgaon Commissioner Navdeep Singh Virk said, adding that "policemen have been directed to ensure that citizens reached home safely".
"Water logging on several roads in Gurgaon has led to a gridlock in parts of the city. Entire traffic police is on road trying to do the best," Gurgaon Police tweeted.
The Badshahpur drain, which carries storm water, was breached yesterday, leading to several feet of waterlogging in the area. Over four feet deep water was witnessed inundating some places near the expressway. Kanwarias (Lord Shiva's devotees bringing Gangajal from Uttarakhand), vehicles of NSG commandos, Central and state officials were also stuck in the rainwater under which the expressway and other arterial roads disappeared.
Kudos to #Gurugram City for successful test drives of the world's first Water Cars : pic.twitter.com/SDwlucDsUV

— Captain Shorma (@imWrong45) July 29, 2016
Traffic was also disrupted at the Hero Honda, Jharsa, Iffco and Shankar chowks (intersections). Jams affected both flyovers and service lanes in Gurgaon as well as Rajeev Chowk, Sohna Road, Signature tower, Old Gurgaon, Khirki Daula toll plaza and Manesar from Jaipur to Gurgaon side. The NH 8 remained cut off with traffic moving towards Rajasthan and Maharashtra being stuck on the city roads and state highways.
In New Delhi, the Road Transport Ministry said that Nitin Gadkari has directed NHAI Chairman Raghav Chandra to send team of officials to NH8 immediately.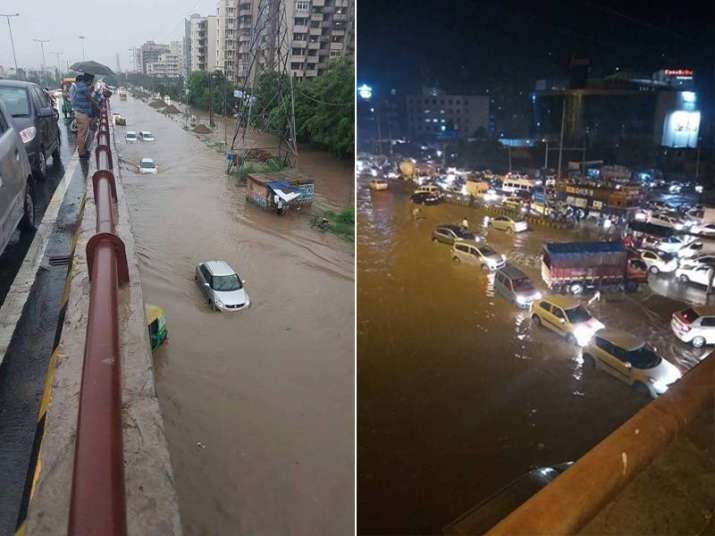 "Gadkari has asked the NHAI Chairman Raghav Chandra to immediately rush a team of senior officers to Gurgaon and personally monitor the situation. He has been asked to take all necessary steps in cooperation with the state authorities to ensure smooth flow of vehicles on NH (National Highway) eight," an official of the Ministry said in a statement.
Team will coordinate with state officials to clear vehicular movement, it said, adding that the NHAI Chairman will report about developments directly to Gadkari.
On the other hand, Gurgaon Police has asked people coming to Gurgaon from Delhi to avoid travelling.
"People coming to Gurgaon from Delhi are advised to stay back today to avoid being stuck in traffic jams due to flooding on roads," it said on Twitter.