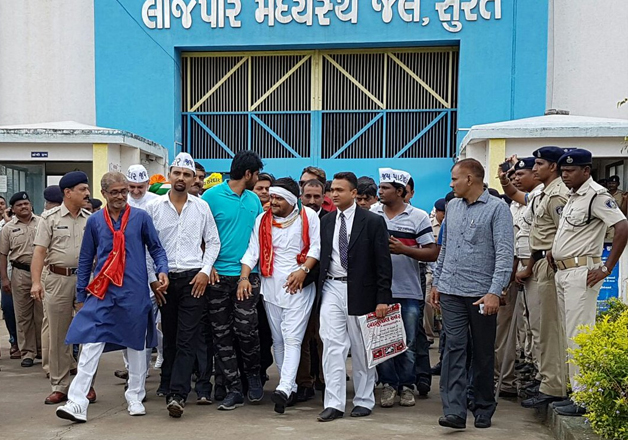 Ahmedabad: Hundreds of people gathered outside the Lajpore Central Jail in Surat today morning as Patidar protest leader Hardik Patel walked out of the jail.
Patel was inside the jail for nearly nine months after he was arrested in connection with two cases of sedition and a case of violence at Visnagar lawmaker's office during the quota stir last year.
The police has also granted permission to the Patidar Anamat Andolan Samiti (PAAS) to organise a road show for the stir leader.
Last week, the Gujarat High Court granted him bail on condition that he will stay out of the state for a period of next six months and will leave Gujarat within 48 hours after his release from jail.
PAAS had sought permission from Surat Police to organise a road show of Mr Patel in various areas of the city after felicitating him outside the jail in morning.
Surat: Hardik Patel who was arrested in connection with 2 sedition cases,released from Lajpore Central Jail in Surat pic.twitter.com/rDk7ZWLMXf

— ANI (@ANI) July 15, 2016
While granting the permission, Surat Police Commissioner Ashish Bhatia asked the organisers not to indulge in any activity which may cause law and order problem.
"We have granted them (organisers) permission to organise a road show with Hardik. We have asked them to follow all the conditions laid down by the High Court. We have also asked the leaders not to use any inflammatory or defamatory words in their speeches during the road show," the commissioner said.
Surat PAAS convener Nikhil Savani has clarified that no public meeting will be held in Surat as announced on Wednesday.
"Earlier, we had planned to hold a public meeting also. But, we have dropped that idea and sought permission for the road show only. We will make sure that it does not create any trouble for anyone," he said.
As per schedule released by PAAS, Patel's caravan will pass through different parts of Surat city, including Bhestan, Ring Road, Kapodra, Mini Bazar and Varachha area, which are mostly dominated by Patels.
Meanwhile, Patel's family members said that he will appear a sessions court in Ahmedabad on July 16 to submit a fresh affidavit according to the directives of the high court.