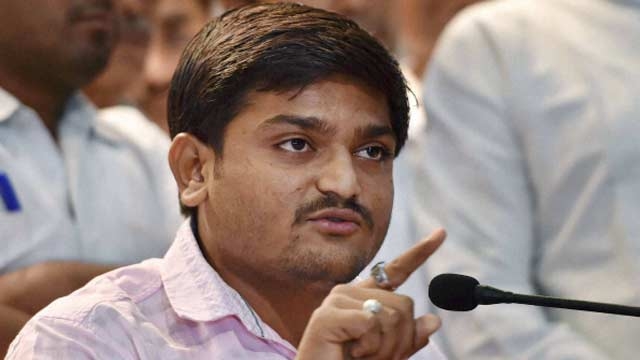 Patidar Anamat Andolan Samiti (PAAS) leader Hardik Patel on Thursday claimed that the Gujarat Chief Minister Vijay Rupani has resigned from his post.
However, Hardik's claims were rubbished by the chief minister who said these claims were nothing but "lies" and "false rumours".  The chief minister  also added that he will complete his five-year term.  
Earlier in the day, Hardik Patel claimed in Rajkot that Rupani had resigned during Wednesday's cabinet meeting after being asked by his party to do so. 
 "Rupani had resigned yesterday during the cabinet meet. I am saying this with full confidence. Rupani was asked to resign because he has failed to handle the administration properly," the 24-year-old quota agitation spearhead told reporters. 
"A new chief minister will be appointed within 10 days. The party (BJP) will chose either a Patidar or a Rajput as the new chief minister," he further claimed.  
Upon learning about such claims, Rupani said, "Hardik is spreading blatant lies to be in media. I wonder if he is aware about the procedure that the resignation has to be handed over to the governor at Raj Bhawan, not in the cabinet meeting." 
Talking to reporters in Gandhinagar, he said there was absolutely no discussion going on in the party or government or at the senior leadership level about it (resignation).  "I have not given any resignation and there is no question of doing so because people have given us their mandate to serve them for five years," said Rupani.  Terming Patel as a "Congress agent", he said some people were spreading such false rumours to derail Gujarat's journey of development. 
"It is possible that some people did not like the poll outcome. People know that he (Hardik) has worked as a Congress agent for many years. Thus, it is natural that he is feeling uncomfortable. Otherwise, what he has claimed is totally false," Rupani added. 
Deputy Chief Minister Nitin Patel also rubbished such claims, saying it was the handiwork of the BJP's opponents.  "Our chief minister has not resigned. No such development took place yesterday. These all are false and baseless rumours being spread by the BJP's opponents to stir controversies. But, we (BJP leaders) will always remain together despite such rumours," he asserted.
(With PTI inputs)