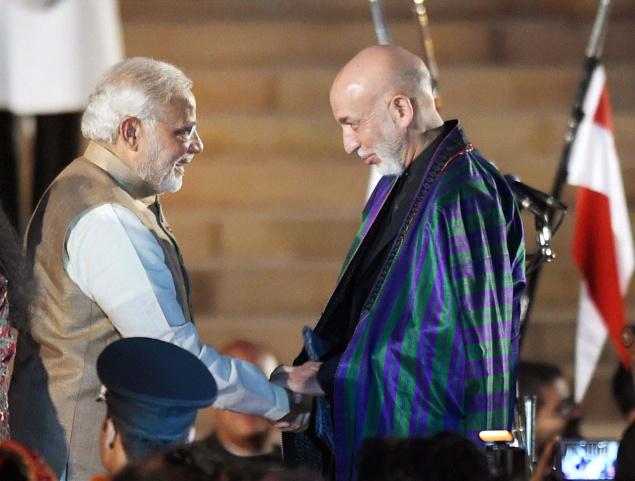 Former Afghanistan President Hamid Karzai stepped out in support of Prime Minister Narendra Modi over the issue of human rights violation in Balochistan.
Currently on a visit to New Delhi, Karzai hailed PM Modi for raising his voice over the long-due issue.
"We highly appreciate the fact that PM Modi has raised the issue of Balochistan. He addressed it by showing concern for the people of Balochistan to be violence free," he said.
On Pakistan's allegations that India was pushing for dissent in Balochistan, Karzai said, "When Pakistan accuses others of interference first they should stop doing the same. They have interfered in Afghanistan. We have been at the receiving end of it."
'Learn from our experience'
Advising Kashmiri leaders to not fall prey to Pakistani propaganda, Karzai cited his own country's example and asked them to take a lesson from Afghanistan's experience.
"My brotherly advice to people of Kashmir is that let no other country, no one else interfere in your matters. I wish the best for Kashmiris, hence I tell them this. Learn from what happened in Afghanistan, after the bitter experience we have gone through. Don't allow (Pakistan's) interference," said Karzai.
'Extremists being backed by Pakistan Army'
Underscoring Pakistan Army's role in increasing terrorism in the sub continent, Karzai said, "Yes, Pakistan Army is involved in excesses, in encouraging extremism in the region. I have been constantly talking about that have been raising the issue of how extremism is used by institutions in Pakistan as an instrument of state policy."