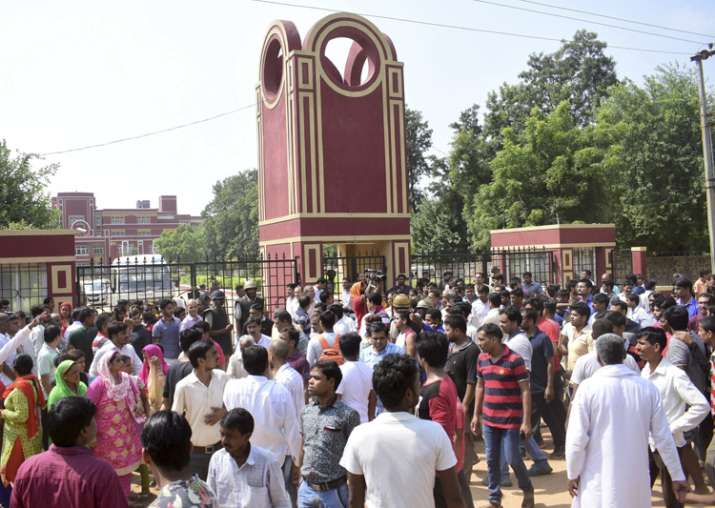 The bus conductor arrested in connection with the murder of a Class II student of Gurugram-based Ryan International School has confessed to killing the 7-year-old boy after attempting to sexually assault the kid. The accused Ashok told media persons that he killed the minor boy by slitting his throat.
Expressing regret for what he did, the arrested bus conductor said that he had lost his mind while committing the heinous crime. Ashok, a resident of Ghamroj village of Gurugram, worked as the conductor of the school bus. He was arrested by the police within 10 hours of the murder of Pradhuman, the Class II student of the renowned school. 
Ashok reportedly told the police that he first tried to sexually assault Pradhuman in school's toilet but the kid started shouting. According to Ashok, he got nervous and killed the kid by slitting his throat. Meanwhile, the administration has asked  Ryan International School to remain closed until they provide the guarantee for the security of the children. The principal of the school has also been suspended. 
As it happened on Sept 9:
# Once we get report, if facts are not clear we are ready for any kind of probe: Manohar Lal on demand of high profile probe by victim's family
4:40pm: Asked for report. Principal suspended, whatever lapses will be found. Sad incident & heinous crime. Administration has nabbed the suspect; directed authorities to complete formalities within 7 days: Haryana CM Manohar Lal
4pm: There is a tendency for common people to ask for CBI probe. I said if you aren't satisfied with probe by police we'll talk. Assured that probe will be done to their satisfaction: Haryana PWD Minister after meeting parents of boy
Gurugram: Haryana PWD Minister Rao Narbir Singh visited family of the 7-year-old who was found dead at #RyanInternationalSchool in Bhondsi pic.twitter.com/AY6niM6bjR

— ANI (@ANI) September 9, 2017
3:25pm: Will file chargesheet in court within 7 days and request for fast trial of case. Involvement of bus conductor is confirmed if someone else is found involved, action will be taken against them: Gurgaon Police Commissioner
3pm: Ryan International School has been asked to send a report along with FIR filed in this case within 2 days. Fact finding committee set up to enquire matter& submit report at earliest: CBSE PRO Rama Sharma
2:30pm: Taking these steps to ensure vigorous safety measures in place for all our students & staff. Necessary measures being reinforced with experts' help. Seeking advice from Police dept to guide us. After tragic incident yesterday,authorities seriously taken up security measures review at school: Acting Principal, Ryan International School
#Gurugram: Members of Bar Association of Sohna decide not to appear on behalf of accused in #RyanInternationalSchool murder case pic.twitter.com/JYt5WxlWZ1

— ANI (@ANI) September 9, 2017
01:53pm- Accused bus conductor sent to 3 day police remand by Gurugram court
01:30pm- Going to Gurugram tomorrow. Culprit won't be spared. Schol's recognition can be withdrawn: Haryana Education Minister Rambilas Sharma
01:15pm- It's unfortunate. It's like warning to people and schools. Justice will be done for sure: Union HRD Min Prakash Javadekar
01:00pm- Pradhuman's mother says bus conductor is being framed. How can bus conductor enter school toilet with knife, she asked.
10:53am- Principal of Ryan International School suspended
10:50am-  Ryan International School asked to remain closed till they provide the guarantee for the security of the children.
08:37am- Accused bus conductor confesses to killing the Class II student after attempted sexual assaut
07:35am- Police force in large numbers deployed outside Ryan International School.
07:30am- The parents have still not taken the body of the 7-year-old boy
07:26am- Accused bus conductor to be produced in the court today
Pradhuman, a Class II student, was found dead by the watchman in the washroom of the school with his throat slit. A knife, presumably the murder weapon, was found near the body. Pradhuman's sister is a student of Class 5 in the same school, located on Sohna Road. According to reports, the boy reached  the school at around 8.15am on Friday. The watchman of the school was the first to see the blood-drenched body of the boy in the toilet at around 9.15am after which the police was informed at around 9.30am and the body was taken to a nearby hospital where the boy was declared brought dead.
According to the post-mortem report, the deceased had two cuts on his neck. His throat was almost completely slit. "Haemorrhage and excessive blood loss caused the death," forensic expert Deepak Mathur, who conducted the post-mortem, said.
The boy's family resides in Maruti Kunj Society in the same area. Pradhuman's father is a senior executive with an export house in the Kherki Daula police station area.