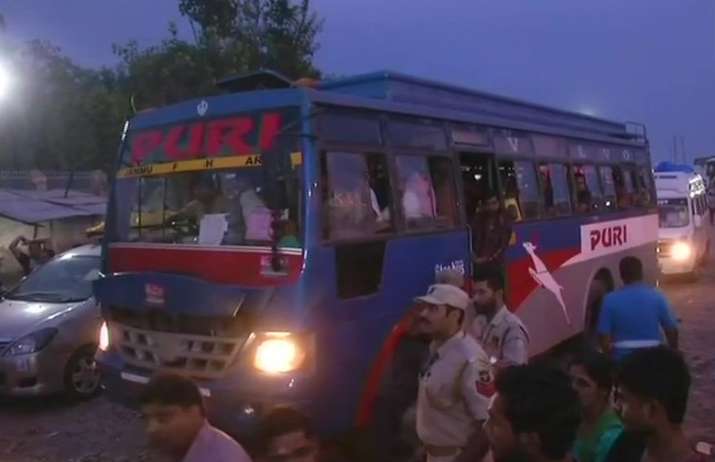 First batch of Amarnath Yatra has been flagged off from Jammu's base camp in Bhagwant Nagar amid tightened security. They will reach the base camps of Baltal in Ganderbal and Nunwan-Pahalgam in Anantnag districts in Kashmir by the end of the day. The pilgrims would start their onward journey to the 3,880 metre high cave shrine by foot, the next day, marking the commencement of the pilgrimage. 
The yatra was flagged off in at around 5 am today by BVR Subramanyam, Chief secretary J&K, BB Vyas Advisor to J&K Governor and Vijay Kumar, Advisor to J&K Governor.
Amarnath Yatra is a very significant annual event. With cooperation of public, all security agencies and development agencies we have put a scheme in place and are trying our best to address concerns of the yatris and ensure smooth flow of traffic, Vijay Kumar told ANI. 
Amarnath yatris, leaving in the first batch, expressed confidence in a safe journey owing to ample arrangements. "We are very happy that we are going for Amarnath Yatra. We don't fear anything here. All security arrangements are up to the mark. Every year there are improvements in the security," Amarnath yatris said before setting for the journey this morning. 
Abhay Veer Chauhan, IG CRPF Jammu Sector, who was also present during the flag-off ceremony said that all security arrangements have been made. We're using latest technology and vehicles, manpower has been increased as compared to last year, he informed, adding that althought there is no specific threat as such, but the scurity forces are ready for any kind of attack. 
Till now nearly 2 lakh pilgrims from across the country have registered themselves for the yatra to the cave shrine in the south Kashmir Himalayas. 
The yatra is scheduled to conclude on August 26 coinciding with the 'Raksha Bandhan' festival.
Watch video: 
Read this story in Hindi