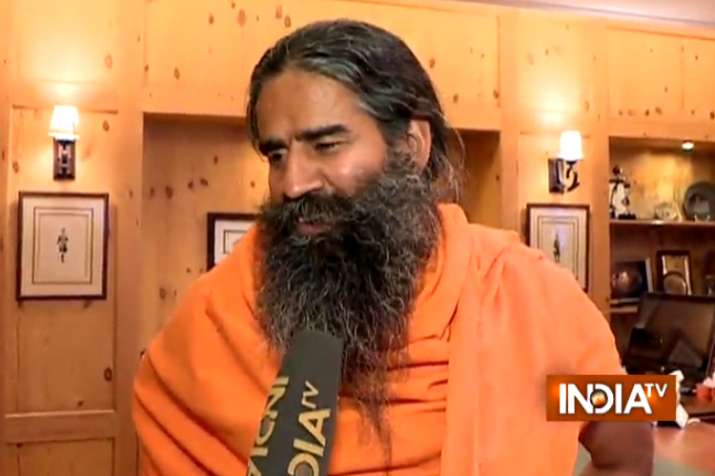 Yoga guru Baba Ramdev has said that his "swadeshi" company Patanjali has given employment to 1 lakh people, and is planning to provide job opportunity to another 5 lakh people. 
In an exclusive interview to India TV, Ramdev said that his target is to connect 5 crore farmers to Patanjali, while 1 crore farmers are already working with the company.
When asked about the launch of Patanjali's apparel range, Ramdev said that people won't need to buy clothes from foreign companies within a year. 
He added that the clothing range will feature over 3,000 products, including clothes, shoes, watches and much more. 
Aiming to expand its footprint in the country's FMCG sector, Patanjali on Tuesday launched its e-commerce platform under the tagline "Haridwar to har dwar" (Haridwar to every door step online).
The company has also announced its partnership with leading e-retailers and aggregators to authorise online sales of its products which include Paytm Mall, BigBasket, Flipkart, Amazon India, Grofers, Amazon India, netmeds, 1mg and Shopclues, among others.
Speaking over the launch of Patanjali's online venture, the Yoga guru said that out of the 40 crore people connected through online media, over 5 crore people are searching Patanjali products presently. 
Ramdev exuded confidence that the number will double to 10 crore, and that the company has requisite infrastructure to cater to all of its consumers. 
He also said that the company is targeting sales worth Rs 1,000-2,000 crore through its online platform. 
"We'll pay Rs 5 lakh to the card holder in case of accidental death, Rs 2.5 lakh in case of permanent disability," he said.
Ramdev claimed that in 2017 brand test report, Patanjalim was ranked on top in terms of "trust"
 
Heaping praises on Prime Minister Narendra Modi, Ramdev said that the former is always in favour of "swadeshi", and that he is hopeful of the Modi government winning the 2019 Lok Sabha elections.
Ramdev said that Patanjali will soon introduce Loyalty cards at its exclusive stores. He, however, said that he will reveal the details related to it later. 
"Unilever was ahead of us only in terms of "turnover" and we plan to replace them next year," he said.  
"Ramdev said that Patanjali will soon introduce Loyalty cards at its exclusive stores," he added.