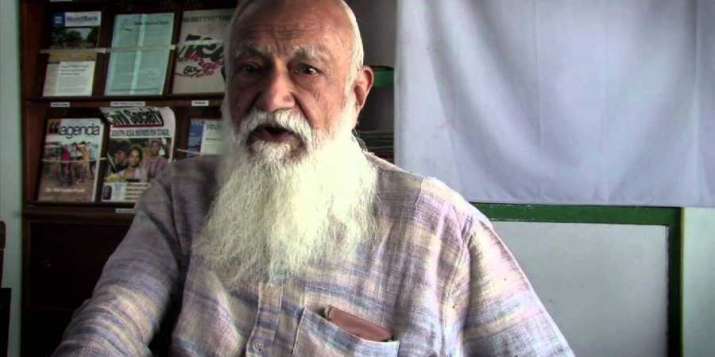 Environmentalist GD Agarwal, who was on fast unto death to save River Ganga since June 22, passed away at AIIMS Rishikesh following a heart attack.
"He suffered a cardiac arrest. He was administered a potassium and heart-related medicine intravenously when he was brought here," a doctor at AIIMS Rishikesh told ANI. 
Prime Minister Narendra Modi expressed grief on the demise of the environmentalist. "Saddened by the demise of Shri GDAgarwal Ji. His passion towards learning, education, saving the environment, particularly Ganga cleaning will always be remembered. My condolences," PM Modi tweets. 
Saddened by the demise of Shri GD Agarwal Ji. His passion towards learning, education, saving the environment, particularly Ganga cleaning will always be remembered. My condolences.

— Narendra Modi (@narendramodi) October 11, 2018
A former professor at the Indian Institute of Technology-Kanpur, Agarwal had been demanding that steps be taken to make the Ganga 'aviral' (free flowing). He wanted the government to stop the construction of all hydroelectric projects along the tributaries of the Ganga and the enactment of the Ganga Protection Management Act.
According to reports, Agarwal had several sent letters to the Prime Minister's Office during his fast, but after receiving no response form the government he had decided to further intensify his protest by giving his only intake of water, mixed with honey, a couple of days ago. 
Prime Minister Modi had pledged in 2014, on the banks of the Ganga in Varanasi, that he would ensure that the Ganga would be cleaned up by 2019. However, a parliamentary estimates committee which evaluated the government's efforts to rejuvenate the Ganga concluded that the government's actions have been far from enough.
"Modi ji said river Ganga is calling him but it is even more polluted than it was in 2014. Rs 22000 Cr was allotted for cleaning it, not even 1/4th of it has been used. Is Namami Gange also a 'jumla'? Maybe GD Agarwal ji's sacrifice will provide vision to this blind govt," Congress spokesperson Randeep Surjewala said today. 
Defending his government's actions for Clean Ganga, Union Water Resources Minister Nitin Gadkari recently clarified that the government has created conducive projects and environment to clean the River Ganga within a year. 
River Ganga will be clean and full of water within a year, if not then I am ready to face the punishment that deems fit, Gadkari told India TV Editor-in-Chief Rajat Sharma in Aap ki Adalat. 
During the interview, boradcast on Spetember 30, the Minister for Ganga Rejuvenation project said that the government has already allocated majority of the Ganga related projects and the work as afoot. 
"The work has begun on 258 projects. Now we are focussing on the polluted water which falls into the river. We are not only working on Ganges, but also its tributaries like Yamuna. In Delhi, the state government has already started work on 11 out of 12 projects," Gadkari said. 
The minister claimed that 70 to 80 per cent projects have been awarded but they will take at least a year to show the results. 
"I can promise you that there will be a significant improvement in Ganga waters within a year," he said, adding that soon a notification for 'Aviral Ganga' will also be issued, which aims at maintaining at least one-foot water level in the river at all times of the year. 
"In the notification to be issued next week, we will block Ganga waters from certain areas to ensure that at least one to two feet of water level is maintained in March, April and May," the minister claimed. 
In keeping with the promise, Gadkari's office on Tuesday notified the minimum environmental flows for Ganga river that was to be maintained at various locations on the water body. 
Calling this a significant development, Gadkari said the notification of e-flow for the river would go a long way in ensuring its continuous flow, PTI reported. 
Reiterating the government's commitment towards a continuous and clean Ganga, he said the draft Ganga Act will be sent to the Cabinet for approval.
The notification issued by the government will ensure that the river has at least the minimum required environmental flow of water even after its flow gets diverted by projects and structures for purposes like irrigation, hydropower, domestic and industrial use. 
This is an important step taken towards maintaining the uninterrupted flow of the river, Gadkari said.
(With inputs form PTI)
Aap ki Adalat: Union Minister Nitin Gadkari promises clean Ganga within a year