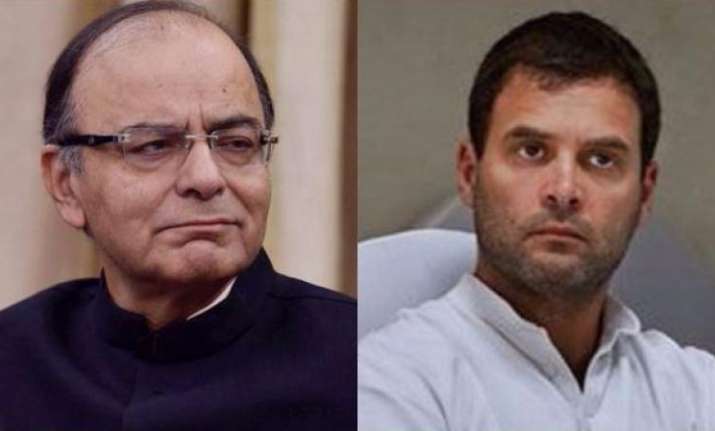 The second anniversary of the Centre's surprise move of demonetisation witnessed the Opposition and the Modi government engaged in bitter war of words on Thursday. While Finance Minister Arun Jaitley staunchly defended the move to declare old Rs 500, Rs 1000 notes as illegal tender on November 8, 2016, Congress president Rahul Gandhi called it a 'tragedy' and 'a day of infamy'.
In his Facebook post, Arun Jaitley listed an 80 per cent jump in income tax return filers to 6.86 crore in four years, rise in digital transactions and more resources being available for poor and for building better infrastructure as the main achievements of demonetisation.
With depositing junked currency in banks the only mode left to liquidate holding of old high-value rupee notes, the government was able to track down people holding cash beyond their known sources of income and suspect owners of 17.42 account holders identified, Jaitley said.
Also Read: 2 years of demonetisation: Who said what
Jaitley said that demonetisation has favourably impacted the tax system, digitisation, and formalisation of India economy. "By the time the first five years of this government are over, we will be close to doubling the assessee base," he said.
Terming the criticism, that almost the entire cash money got deposited in the banks post demonetisation, as 'ill-informed', Jaitley said confiscation of currency was not an objective of demonetisation.
DeMo a planned criminal financial scam: Rahul Gandhi 
Calling November 8, 2016, as 'a day of infamy', Rahul Gandhi said by sucking 86 per cent of currency in circulation, the government brought the 'economy to a grinding halt'. He said that the move caused 1.5 million job losses, eroded at least 1 per cent of GDP and took the lives of more than 120 people standing in queues to get replacement for the junked currency notes.
नोटबंदी सोच-समझ कर किया गया एक क्रूर षड्यंत्र था। यह घोटाला प्रधानमंत्री के सूट-बूट वाले मित्रों का काला-धन सफेद करने की एक धूर्त स्कीम थी।

इस कांड में कुछ भी मासूम नहीं था| इसका कोई भी दूसरा अर्थ निकालना राष्ट्र की समझ का अपमान है|

— Rahul Gandhi (@RahulGandhi) November 8, 2018
"Demonetisation was a tragedy", a "monumental blunder" and a "carefully planned criminal financial scam", Gandhi said adding that "it was a self-inflicted, suicidal attack that destroyed millions of lives and ruined thousands of India's small businesses".
What ex-PM Manmohan Singh said
Former Prime Minister Manmohan Singh, who had previously said that the note ban would shave off 2 per cent of the GDP, termed the move as an 'ill-fated' and 'ill-thought' exercise, whose 'scars and wounds' are more visible on the second anniversary of 'economic misadventure'.  
Senior Congress leader P Chidambaram also accused the government of trying to capture the Reserve Bank of India's Rs 9.6 lakh crore reserve to tide over its fiscal crisis.
Questioning the rationale behind the note ban, Delhi Chief Minister Arvind Kejriwal termed it as 'a self-inflicted deep wound' on the Indian economy.
The consequences of demonetisation have been catastrophic. Millions of people were pushed into debt; millions lost their jobs; thousands of MSMEs were shut down; over a hundred people, including persons from West Bengal, died while standing in queues.

— P. Chidambaram (@PChidambaram_IN) November 8, 2018
West Bengal Chief Minister Mamata Banerjee alleged that the demonetisation was for the benefit of a handful of people and termed November 8, 2016, as 'darkest day of India'.
The Modi government had on November 8, 2016, demonetised high-value currency notes of old 500 and 1000 rupee notes, constituting 86 per cent of the currency in circulation, to check black money in the system. Of the Rs 15.41 lakh crore worth Rs 500 and Rs 1,000 notes in circulation on November 8, 2016, 99.3 per cent or notes worth Rs 15.31 lakh crore have returned to the banking system.
WATCH: Rahul Gandhi calls demonestisation a 'tragedy' and 'a day of infamy'
(With inputs from PTI)