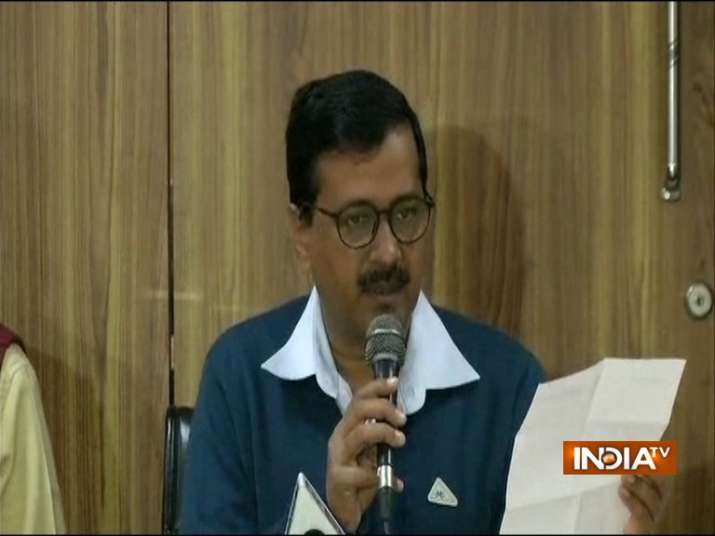 High drama was witnessed outside Delhi Chief Minister Arvind Kejriwal's residence on Tuesday when a delegation of BJP leaders went to visit the chief minister to discuss the issue of ongoing sealing drive in the national capital.
The BJP accused the AAP of sabotaging the meeting. "The AAP had over 150 supporters at the meeting. We wanted a meeting in a closed room. They misbehaved with our women Mayors and our MLA Vijender Gupta and disrupted the meeting. This is is highly condemnable," BJP's Manoj Tiwari said.
"When we spoke about the 351 roads (to be notified under mixed use or commercial categories), their MLAs started shouting and didn't let us talk. The chief minister started speaking in a way as if he was addressing a public rally", he added.
Leader of Opposition in Delhi Assembly Vijender Gupta said that the Delhi CM had called goons and that they were mistreated at chief minister's house. A police complaint in this regard has also been filed at the Civil Lines police station.
However, the Delhi chief minister accused a BJP delegation led by Delhi unit president Manoj Tiwari of walking out of the discussion instead of trying to come up with suggestions that could be presented to the Lt. Governor.
 "All our MLAs and councillors had gathered for the meeting with the BJP delegation (led by Delhi BJP unit chief Manoj Tiwari). They refused to have a discussion in front of everyone," Kejriwal told media persons here. 
"I made a sincere request to our BJP friends to sit down, discuss and together find a soln to sealing. However, they just walked out. I am disappointed. Solns can be found only thro discussions in democracy", the Delhi chief minister tweeted.
"It was a very good opportunity... both the political parties could have discussed the matter and then approached the Lt. Governor to propose a solution," he added.
Addressing a press conference, Kejriwal said that the Delhi government will approach Supreme Court seeking a temporary ban on sealing drive.
Meanwhile, the BJP leaders have requested the Delhi chief minister to immediately notify 351 roads. "The Kejriwal government has been constantly avoiding its administrative and moral responsibility to find a solution to end the ongoing sealing drive in the city," Delhi BJP General Secretary Ravinder Gupta had said.
सीलिंग के मुद्दे पर मुख्यमंत्री @ArvindKejriwal से चर्चा करने आये #भाजपा के सांसद , विधायक और मेयर बीच मीटिंग से भागे pic.twitter.com/3dTV1FiTpQ

— Narendra Yadav (@INarendra7) January 30, 2018
The sealing drive is being carried out by a Supreme Court-appointed Monitoring Committee against business establishments using residential properties for commercial purposes.
The BJP leaders are demanding immediate notification of 351 roads as commercial and mixed-use categories so that traders on these stretches will be saved from the ongoing sealing drive.
The delegation included all the seven MPs of the BJP from Delhi, all the party MLAs from Delhi and the three mayors of the municipal corporations.