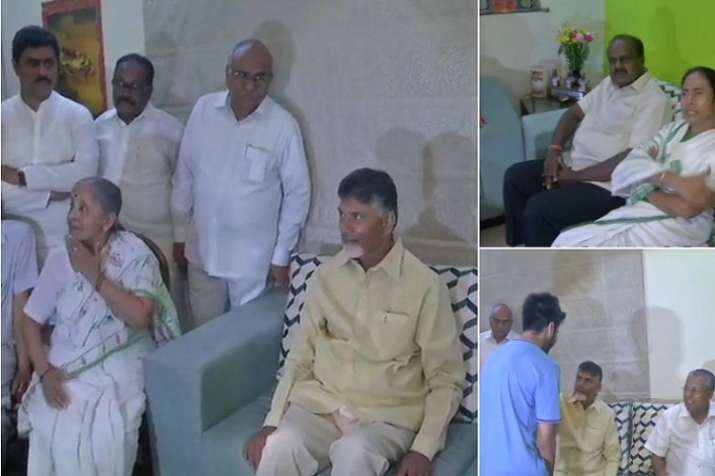 The political support for the Aam Aadmi Party's sit-in protest intensified on Saturday as Chief Minister's of four states arrived in Chief Minister Arvind Kejriwal's residence in New Delhi on Saturday. Andhra Pradesh Chief Minister Chandrababu Naidu, West Bengal Chief Minister Mamata Banerjee, Kerala Chief Minister Pinarayi Vijayan and Karnataka Chief Minister HD Kumaraswamy arrived in New Delhi in support of the protesting chief minister.
Earlier in the day, the leaders in an open signed letter addressed to Lieutenant Governor Anil Baijal, urged to make representation to him with respect to issues concerning Delhi CM.
The ongoing sit-in protest by  Kejriwal and his three Cabinet ministers at the waiting room of Delhi L-G Anil Baijal's residence entered sixth day on Saturday. Kejriwal, along with Deputy Chief Minister Manish Sisodia and Cabinet ministers Satyendar Jain and Gopal Rai, has been camping at the Raj Niwas — the official accommodation-cum-office of Lt Governor (LG) — since Monday evening.
Kerala CM P Vijayan, Karnataka CM HD Kumaraswamy, Andhra CM N Chandrababu Naidu & WB CM Mamata Banerjee write to Lieutenant Guv Anil Baijal, write 'Would like to make representation to you with respect to issues concerning Delhi CM'. They've sought an appointment for 9 pm today. pic.twitter.com/e4qITNH6oB

— ANI (@ANI) June 16, 2018
They are demanding that the IAS officers working in the Delhi administration should end their undeclared strike, action against officers who have struck work for "four months" and approval to his government's proposal for doorstep delivery of ration to the poor.
Andhra Pradesh CM Chandrababu Naidu, West Bengal CM Mamata Banerjee, Kerala CM Pinarayi Vijayan & Karanataka CM HD Kumaraswamy arrive at Delhi CM Arvind Kejriwal's residence. pic.twitter.com/TAIVmqo08y

— ANI (@ANI) June 16, 2018
Inside visuals from Delhi CM Arvind Kejriwal's residence where Andhra Pradesh CM Chandrababu Naidu, West Bengal CM Mamata Banerjee, Kerala CM Pinarayi Vijayan & Karanataka CM HD Kumaraswamy have arrived. pic.twitter.com/a7v71tYrJQ

— ANI (@ANI) June 16, 2018
Earlier on Friday, a number of party workers and legislators threatened for a mass agitation outside the Prime Minister's residence if their demands were not met.
"Delhi is all set to launch a mass protest like the one we did which changed its political picture," Aam Aadmi Party spokesperson Pankaj Gupta told the media in New Delhi.
"We have tried all we can, but they are not ready to listen," he added.
The party has planned for a door-to-door campaign starting from June 18 to collect signatures of at least 10-lakh families, which they will forward to Prime Minister Narendra Modi as he has not responded to the demands yet.
WATCH FULL VIDEO:
Controversy erupts over Satyendar Jain's weight gain
Doubts were raised on Saturday on the ongoing 'sit-in protest' as reports that State Health Minister Satyendar Jain, who is on an indefinite fast since Tuesday had gained body weight emerged in the media. According to various reports, Jain's weight went up from 80.3kg on Thursday to 81.5kg on Friday, while his pulse rate remained 68 per minute. His blood pressure was the same on both days at 98/64.
However, AAP has dismissed the reports stating that they are the results of a big conspiracy to evict the protesting leaders from the LG House.
"My reports. Ketones are increasing and blood sugar is constantly low."- @SatyendarJain

1/3 pic.twitter.com/vDfqVckGWO

— AAP (@AamAadmiParty) June 16, 2018
"Lost 3.7 kg wt in 4 days."- @SatyendarJain

2/3 pic.twitter.com/aA04Pl8s3z

— AAP (@AamAadmiParty) June 16, 2018
WATCH FULL VIDEO:
Kejriwal continues sit-in 'dharna', accuses BJP of instigating IAS officers' strike
CM Kejriwal on Saturday accused the BJP of putting pressure on IAS officers and said their "strike" was being instigated by it. He said; "BJP is forcing the officers to continue the strike. The party is under pressure as the AAP government in Delhi is working hard. I am here for the people of Delhi and will ensure that things will change."
Meet AAP leaders on Eid at least, Sisodia urges LG Anil Baijal
In a sarcastic dig at Delhi Lt Governor Anil Baijal, Deputy Chief Minister Manish Sisodia on Saturday said people forget enmity during festivals and asked him to invite the protesting AAP Ministers for talks on the occasion of Eid.
In tweets, Sisodia, greeting Baijal on Eid, said: "We have been sitting in the Raj Bhawan from last five days. Let invite us (to meet you) on the occasion of Eid Milan.
"I have been on fast for four days. On occasions of Holi, Diwali and Eid, people even greet their enemies." 
Earlier in the day, Baijal greeted the people of Delhi, saying the festival seeks to strengthen brotherhood besides deepening the bonds of communal harmony, unity and peace.
Centre promises to step in to end the political deadlock in Delhi
The Central government on Friday had assured its intervention in the ongoing stalemate between the Delhi Lieutenant Governor and the city government.
Senior AAP leader and MP Sanjay Singh after meeting Union Home Minister Rajnath Singh on Friday said "Centre has agreed" to take up the current situation in Delhi with the LG and find out a solution to end the row over governance.
"I narrated to him the entire situation in Delhi and how IAS officers have been avoiding important government meetings during the past four months," the Aam Aadmi Party leader told the media here.
"The Home Minister has promised that he will take up the matter with Lt Governor Anil Baijal and find a solution to the issue," he said.
AAP protest continues to garner political support
The ongoing 'sit-in protest' led by CM Kejriwal continued to garner more and more support from political parties and leaders all across the nation. So far, the protest has garnered support from West Bengal Chief Minister and Trinamool Congress chief Mamata Banerjee, the Rashtriya Janata Dal and Bihar's Leader of Opposition Tejashwi Yadav, Union Minister Yashwant Sinha, Samajwadi Party President Akhilesh Yadav, actors-turned-politicians Kamal Hassan and Shatrughan Sinha. The Jharkhand Mukti Morcha (JMM) and Telugu Desam Party (TDP) are also supporting the sit-in.