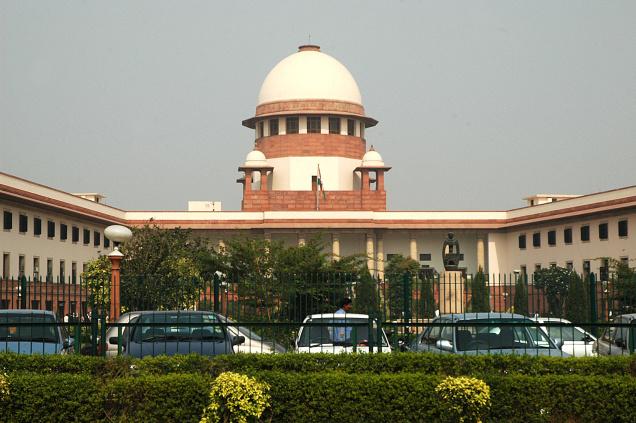 New Delhi: With around 300 districts facing drought like situation across the country, the Supreme Court today  asked Centre to prepare a national plan to tackle the prevailing crisis.
A bench comprising justices Madan B. Lokur and N.V. Ramana directed  Centre to create a disaster mitigation fund to tackle drought-like situation and directed the Agriculture Ministry to hold a meeting within a week with affected states like Bihar, Gujarat and Haryana to assess the conditions.
Among several recommendations, the apex court also asked the Centre to also implement the provisions of Disaster Management Act and fix a time limit for declaration of drought on scientific grounds.
"Agriculture Ministry is directed to hold a meeting within a week with Chief Secretaries of drought-hit Bihar, Gujarat and Haryana to assess the situation," the bench also comprising Justice N V Ramana said.
The court also directed that the National Disaster Response Force should be trained and equipped to tackle the drought-like situation.
Additional Solicitor General P S Narasimha had on April 26 told the bench that Centre is alive to the situation prevailing in the drought-hit areas and states are working hard to provide every possible relief to the farmers in such natural calamity hit areas.
Earlier, the apex court had told the Centre whether it was not its responsibility to warn the states about the drought like situation likely to prevail in the near future.
The court had expressed its concern over low compensation paid to calamity-hit farmers and observed that it was leading some of them to commit suicide.
The petitioner NGO, Swaraj Abhiyan, in its revised prayer, had sought a direction to Centre to abide by the provisions of MNREGA Act and use it for employment generation in drought-affected areas.
During the last hearing, the Supreme Court was informed by the government that 256 districts were struggling under an acute early-summer water crisis sparked by two straight years of monsoon failure.
Additional solicitor general PS Narasimhan had presented data from 10 states that listed drought in 256 districts, home to 33 crore people or 25% of India's population in 40% of the country's total area.
The PIL filed by the NGO had alleged that parts of 12 states of Uttar Pradesh, Karnataka, Madhya Pradesh, Andhra Pradesh, Telangana, Maharashtra, Gujarat, Odisha, Jharkhand, Bihar, Haryana and Chattisgarh were hit by drought and the authorities were not providing adequate relief.