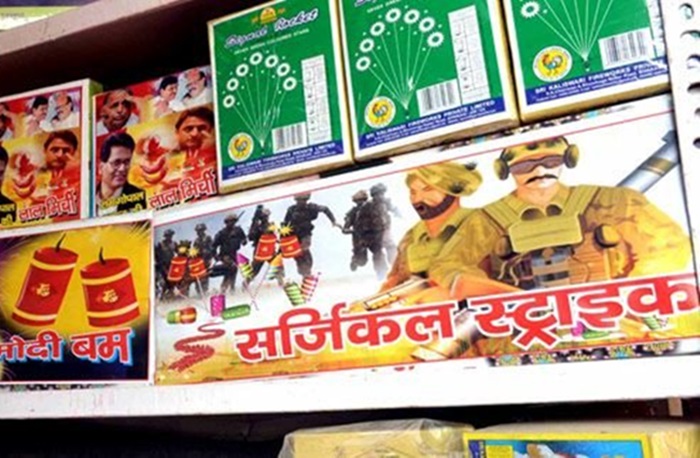 Naming crackers after politicians is nothing new in India. But this Diwali, cracker boxes with surgical strike poster on their covers tops the list.
Cracker boxes with surgical strike on their covers are favourites among the buyers.
Other firecrackers named after prominent political personalities including PM Modi are also doing rounds in the market.
Sellers say that the crackers have been designed in wake of the public demand. "There is Modi Bomb and Surgical Strike rocket as well," a local seller told Timed of India, who has put up a stall in Anglo Bengali College in Varanasi.
Allahabad (UP): Cracker boxes with faces of politicians and #surgicalstrike on their covers hit the market ahead of #Diwali. pic.twitter.com/5WpYMOyeFw

— ANI UP (@ANINewsUP) October 27, 2016
​The ongoing power tussle in Samajwadi party seems to have provided the fire-cracker manufaturers with a marketing strategy. If you walk across the roads of Lucknow and Allahabad you can come across Modi bomb, Amar Singh Phoojhari, Ram Gopal Mirchi etc.
India carried out surgical strikes in Pakistan Occupied Kashmir to revenge the Uri terror attack that claimed 18 jawans.
The option of surgical strikes was taken in the wake of increase in infiltration bids , the DGMO Lt Gen Ranbir Singh  informed. 
Terrorists had begun gathering in large numbers along the LoC with the objective of crossing the border and targeting locations in Jammu and Kashmir, as well as other metros. 
In such a scenario surgical strikes was considered the best option to deal with the threat. 
Meanwhile, India is set to celebrate the festival of light on October 30.