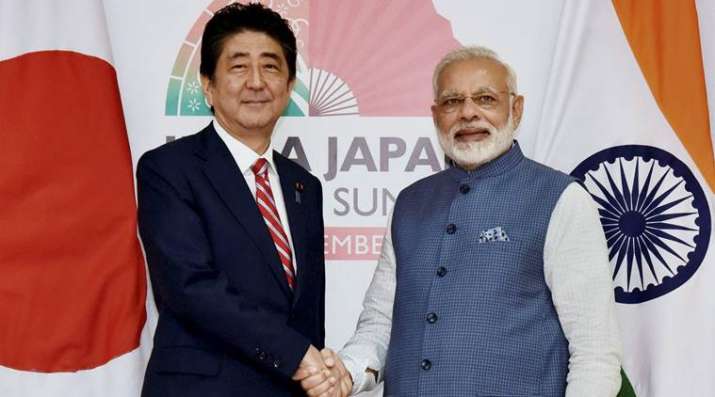 Aimed at countering the Chinese One Belt One Road Initiative that India has objected to citing concerns over the initiative undermining India's territorial integrity as it passes through Pakistan-occupied Kashmir, Japan is all set to propose a similar cross-continent building of high-speed roads and ports from Asia to Africa.
Japan is set to propose a strategic dialogue with India, the United States and Australia to make a formal proposal in this regard, Japanese foreign minister Taro Kono confirmed on Thursday.
Prime Minister Shinzo Abe is expected to propose the idea of the four-party dialogue to US President Donald Trump on November 6, Kono was quoted as saying by the Nikkei business daily.
The development assumes significance as it comes amid indications that the thaw in India-China ties seen before the crucial BRICS Summit in China may not last much longer.
Regardless of India's reservations to the initiative, the Communist Party of China (CPC) congress on October 24 passed an amendment to the party constitution to specifically mention the pet plan of its leader Xi Jinping.
Besides other amendments and updates, the constitution talks about building a community with a shared future for mankind, a formulation Xi has often articulated on his foreign tours, to follow the principle of achieving shared growth through discussion and collaboration, and most importantly, to "pursue the Belt and Road Initiative".
India's primary concern is that China has dubbed a "flagship" plan under OBOR a corridor through Pakistan-occupied Kashmir (PoK), called the China Pakistan Economic Corridor (CPEC). India has also publicly criticised other aspects of OBOR as well, including a lack of transparency and the pushing of projects that leave "debt burdens" on recipient states.
China on Thursday said India should shed its reservations over 'Belt and Road Initiative' and join the project as it will not change Beijing's stand on the Kashmir issue.
The news of Japan's infrastructure plan comes a day after US Secretary of State Rex Tillerson suggested that Washington and New Delhi together build roads and ports across South Asia to Asia-Pacific in response to China's move.
Tillerson, who was in New Delhi on Thursday, pushed for building of roads across Bangladesh to Afghanistan so that even Pakistan could be asked to participate in the project.
Tillerson said the US offer for India, Japan and Australia to be the four anchors of security and peace in the Indo-Pacific region was also an attempt to move relations with India to the "next level".
Kono said he had exchanged his thoughts on the four-nation dialogue with Tillerson and Australian foreign minister Julie Bishop back in August. He said he had also offered the foreign ministers of Britain and France collaborative roles in the partnership.
The proposal is for the leaders of the four nations to promote free trade and defence cooperation across the land and sea to Southeast, South and Central Asia, and beyond to the Middle East and Africa, Kono told Nikkei.
"We are in an era when Japan has to exert itself diplomatically by drawing a big strategic picture," Kono was quoted as saying. "To maintain free and open ocean, the economy and security will surely be on the table."