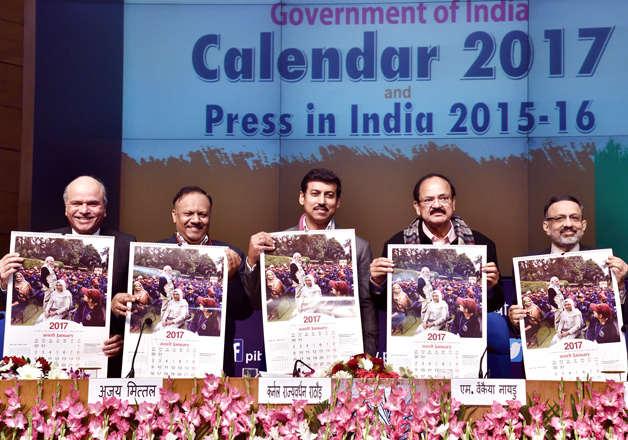 Information and Broadcasting Minister Venkaiah Naidu today released the government's calendar for the next year with the theme of 'Mera Desh Badal Raha Hai, Aage Badh Raha Hai'. 
All the 12 pages of the new calendar feature PM Narendra Modi's photographs and depict the growth trajectory of the NDA government.
In the calendar, each month carries a quote from the Prime Minister. The calendar is in both in English and Hindi. 
On the occasion, Naidu also released a digital calendar app allowing people to download the calendar on personal computer and mobile phones.
Government of India #calendar2017 at a glance pic.twitter.com/DHu9lxJ4RE

— MIB India (@MIB_India) December 22, 2016
He said that the calendar focuses on the government's flagship programmes. The minister further said that the government will launch a 100-day 'good governance campaign' on December 25. 
Naidu said that ministers will go around the country and explain governance and the need for digital transformation during the 100-day long period. 
HMIB Sh. @MVenkaiahNaidu & HMSIB Sh. @Ra_THORe visiting the exhibition by DAVP at the release of GOI #Calendar2017 pic.twitter.com/eXAhcLdN8i

— MIB India (@MIB_India) December 22, 2016
"Motto of this government is to work for the poor not just words for the poor, he said.
The minister, besides releasing a book as well as a CD of Press in India 2015-16, inaugurated the Google toilet locator app to help people find access clean public restrooms. 
Check out the month-wise theme of Government of India #Calendar2017 released by Union Minister @MVenkaiahNaidu a short while ago. pic.twitter.com/vOqVIufXOQ

— PIB India (@PIB_India) December 22, 2016
He informed that the app is a pioneering attempt at providing access to a toilet facility every 500 meters in cities. 
"As on date, 504 cities and towns which also includes cities that have achieved Open Defecation Free (ODF) status and a total of 739 cities and towns have committed to achieve the status by March next year are on the app," Naidu said.
He said, Gujarat, Andhra Pradesh and Sikkim have declared all cities and towns Open Defecation Free and Kerala is set to do so by March next year.