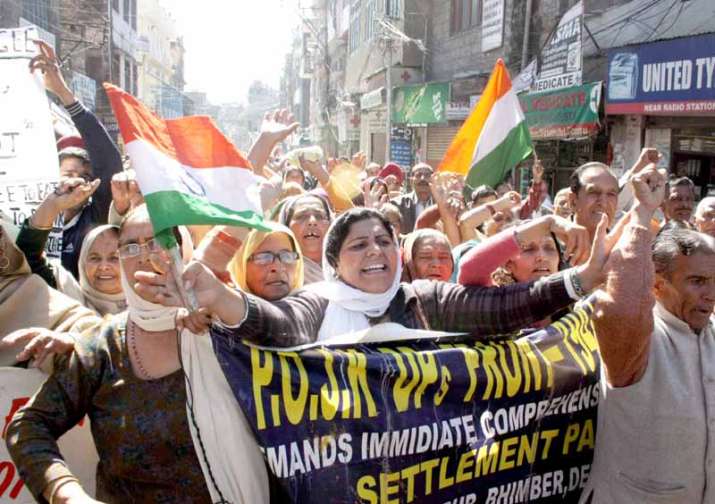 The Union Cabinet has approved Central assistance of Rs 2000 crore rupees for one-time settlement of 36,384 displaced families from Pakistan occupied areas of Jammu and Kashmir and Chhamb. 
The Union Cabinet, chaired by Prime Minister Narendra Modi, approved the home ministry's proposal to provide enhanced financial aid to 36,384 families, who are mostly living in Jammu region after their displacement from PoK after Independence.
Each of these families will get around Rs 5.5 lakh as aid, a senior official said.
The refugees from West Pakistan, mostly from PoK, settled in different areas of Jammu, Kathua and Rajouri districts. However, they are not permanent residents of the state in terms of Jammu & Kashmir constitution.
Some of the families were displaced during Partition in 1947, and others during the 1965 and 1971 wars with Pakistan.
The Cabinet also gave its approval to notify inclusion, amendments in the Central List of Other Backward Classes in Assam, Bihar, Himachal Pradesh, Jharkhand, Maharashtra, Madhya Pradesh, Jammu and Kashmir and Uttarakhand.
The changes will enable the persons belonging to these castes and communities to avail the benefits of reservation in Government services and posts as well as in Central Educational Institutions as per the existing policy. 
They will also become eligible for benefit under the various welfare schemes, scholarships being administered by the Central Government which are at present available to the persons belonging to the Other Backward Classes. 
The Cabinet has approved closure of Kota Unit of Instrumentation Ltd. and transfer of Palakkad Unit of the company to the Kerala government.
PTI inputs