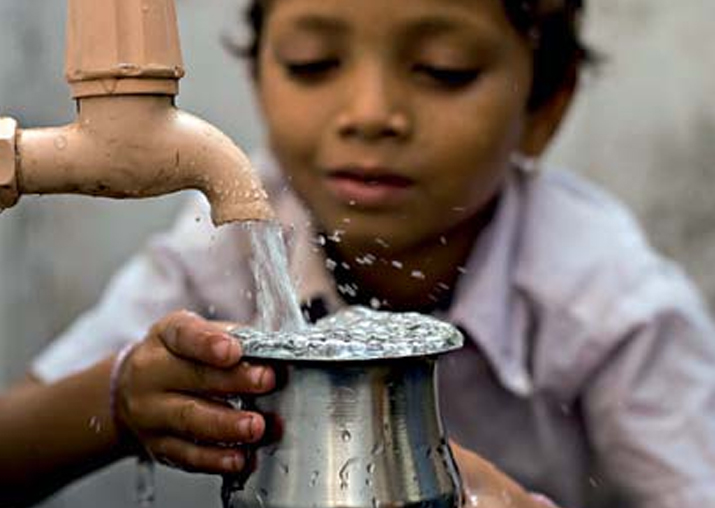 The Cabinet today approved restructuring of the National Rural Drinking Water Programme (NRDWP) to make it competitive and outcome-based, with increased focus on sustainability of schemes to ensure good quality service delivery to the rural population. 
A sum of Rs 23,050 crore has been approved by the Cabinet for the programme for 2017-18 to 2019-20. 
"The programme will cover all the rural population across the country. The restructuring will make the programme flexible, result-oriented, competitive, and will enable the ministry to reach the goal of increasing the coverage of sustainable piped water supply," a government release said. 
With the restructuring of the NRDWP, 2 per cent of the funds will be earmarked for Japanese Encephalitis/Acute Encephalitis Syndrome-affected areas, it said. 
A new sub-programme, National Water Quality Sub-Mission (NWQSM), started by the drinking water and sanitation ministry in February 2017, will address the urgent need for providing clean drinking water to about 28,000 arsenic and fluoride-affected habitations, which have been already identified. 
For the new programme, about Rs 12,500 crore as central share will be required over four years i.e. up to March, 2021. This is being funded from the allocation under the NRDWP. 
States have been given more flexibility in utilisation of the NRDWP funds by reducing the number of components under the programme. 
Pre-financing for the agreed schemes, to the extent of half of the second instalment amount, will be made by state governments, which will be reimbursed later from the central funding, the release said. 
"If the state(s) fails to claim this amount before November 30 in a financial year, then these funds will become a part of the common pool, which will be released to the high performing states, which have already pre-financed the requisite government of India share on a first come, first serve basis," it read. 
The NRDWP is a centrally sponsored scheme with 50-50 fund sharing between the Centre and states. 
The programme was started in 2009, with a major emphasis on ensuring sustainability (source) of water availability in terms of portability, adequacy, convenience, affordability and equity.