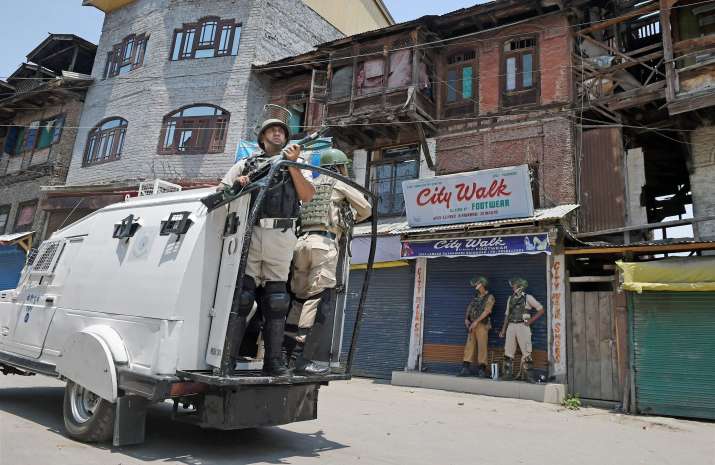 After two days of restrictions and strike, life in Kashmir returned to normal today and the authorities restored all internet services which had been suspended in view of the first death anniversary of Hizbul Mujahideen "commander" Burhan Wani. 
As Kashmir remained by and large peaceful on the anniversary yesterday, there were no restrictions on the movement or assembly of people anywhere in the Valley today, officials said. 
This morning, life returned to normal as shops and other business establishments opened across the Valley, while public transport also plied smoothly. 
Authorities had imposed curfew in three towns - Shopian and Tral in south Kashmir and Trehgam in north - while strict restrictions were enforced elsewhere in the Valley yesterday. 
The separatist camp, including Hurriyat Conference factions led by Syed Ali Shah Geelani and Mirwaiz Umar Farooq and the Yasin Malik-led JKLF, had called for a strike yesterday. 
Restrictions had also been imposed in parts of Kashmir, including in five police station areas of Srinagar - the summer capital of the state - on 7 July as a precautionary measure to maintain law and order. 
The restrictions were lifted after two days this morning as the situation remained by and large peaceful yesterday on Wani's first death anniversary, the officials said. 
"There were few incidents of stone-pelting yesterday, but by and large the situation remained under control and peaceful," the officials said. 
A woman was injured when she sustained multiple pellet injuries in one such clash in Shopian town. 
Internet services were also snapped on Thursday night as a precautionary measure. The services were restored today. 
"All internet services, including broadband and high- speed mobile internet, have been restored in Kashmir," said an official. 
He added that the services were restored in view of the "improving situation". 
While the 2G mobile internet services were restored during the night, the high-speed (3G and 4G) internet services were restored this evening. 
The BSNL's broadband service was resumed this morning, said the official, adding that all the social media sites were also working across all the platforms. 
Wani was killed in an encounter with the security forces in south Kashmir's Anantnag district on July 8 last year. 
His killing had triggered massive protests and prolonged periods of curfews and shutdowns across the Valley. 
As many as 85 people were killed and thousands injured in the daily clashes between the security forces and protesters for a period of over four months.