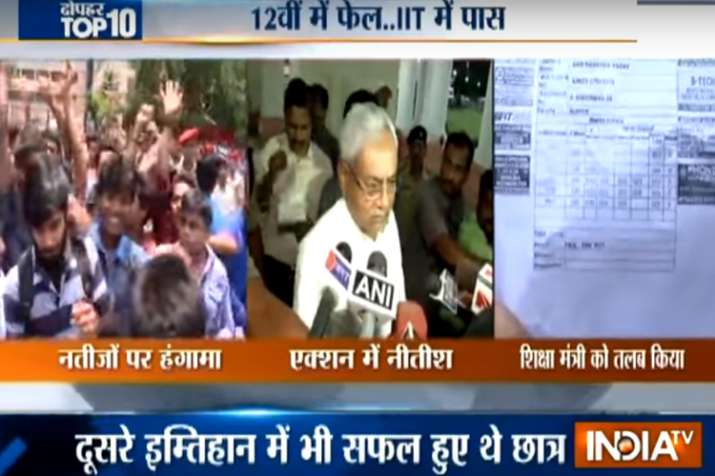 In wake of violent protests by hundreds of students over the poor results in the Intermediate exam and reports of suicide from some districts, the Bihar School Examination Board (BSEB) has decided to provide opportunities for scrutiny and compartmental examination to the aggrieved.      
The move came after Chief Minister Nitish Kumar on Thursday summoned state education minister Ashok Chaudhary at his residence to discuss the issue of alleged discrepancy in state board results. 
"Answer sheets of students who feel their papers have not been evaluated properly, or they got less marks in the examination despite writing better, will be re-evaluated. They have the right to re-evaluation and such provisions are there. Answer sheets of such students will be re-evaluated if they apply for it," said Nitish Kumar. 
Among the protesting students are those who have cracked the coveted IIT-JEE Mains exam, one of the toughest entrance tests, but have failed in Physics and Chemistry in the board exams.
Vivek Kumar cleared the JEE Main this year, scoring 109 out of 360 under the reserved category. However, his joy was short-lived as he failed to clear the Bihar Board Class 12 examination. Vivek got 12 out of 60 in Physics (theory) and just 17 out of 60 in Chemistry (theory) – the two key subjects in the IIT entrance test.
In another similar case, Shubam Sharma also qualified for the JEE (Main) with a rank of 78,000 in the reserved category, but has failed the Class 12 examination, securing just six out of 60 in Physics.
Ompriya, a student from Jamui, has cleared the entrance test for admission into a top-notch marine engineering college, but has failed the Bihar examination, securing 34 marks out of 100 in Chemistry.
Amit Chaurasia is another victim of Bihar School Examination Board's blunder, which has declared 8 lakh students as failed. "I have scored 65 in Physics and 3 in Chemistry. Ask me any question from Chemistry right now. If I don't answer one, I will walk away from here," said Chaurasia.
Some protesting students have also claimed that they have proof that copies of Intermediate exams have been checked by teachers of primary schools. 
A compartmental examination has been scheduled for students, who failed, in the first week of July. But, many students claim it will compel them to drop a year as they won't be able to secure admission in good colleges.
The Bihar Board examination result is hogging the limelight for all the wrong reasons, once again.   
The Humanities topper, Ganesh Kumar, has been untraceable since the results were declared on Thursday, media reports said, adding that there were suspicions regarding his result.
According to local media reports, the suspicion over Ganesh stems from his admission form. The first point being questioned is why he chose to secure admission in a college located 250 km away from his home in Giridih. 
Secondly, his admission form mentions his date as June 2, 1993 which means that he turns 24 tomorrow. However, a class XII student is usually aged between 17 and 19.