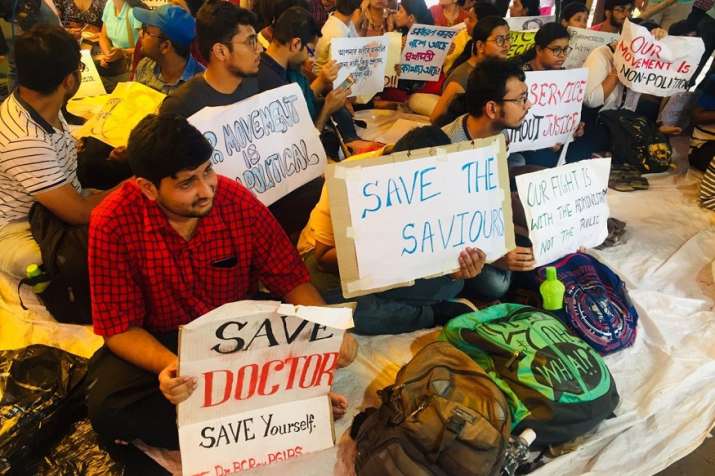 Health services in West Bengal's state-run hospitals on Friday remained disrupted as protesting doctors continued their strike despite repeated requests by patients' families to start treatment.
The junior doctors at the NRS Medical College and Hospital - the epicentre of the protests - continued their sit-in. However, hospital gates were opened enabling normalcy of emergency services.
The cease work at the outpatient departments (OPDs) continued in most of the state-run hospitals.
Meanwhile, around 4,500 doctors in Maharashtra started their one day token strike to express solidarity with their Kolkata counterparts.
Healthcare facilities in Delhi also were widely affected on Friday as doctors at the critically important AIIMS and Safdarjung Hospitals joined the agitation. AIIMS' centres in Patna, Raipur, Rajasthan, Punjab also joined the agitation.
HERE ARE THE LATEST UPDATES ON THE PROTEST ACROSS INDIA:
The Indian Medical Association (IMA) has written to Union Home Minister Amit Shah demanding enactment of a central law to check violence against health care workers in hospitals. The doctors' body also condemned any form of violence especially against medical professionals in the country.

Junior doctors in Hyderabad and other places in Telangana Friday staged protests against the assault on a junior doctor in Kolkata. The protests were held at major state-run hospitals, including Gandhi hospital and Osamania General hospital in the city, P S Vijayender, a leader of the junior doctorsassociation in Telangana, said.

Over 100 doctors of various state-run hospitals in West Bengal have tendered resignation, says PTI.

West Bengal Chief Minister Mamata Banerjee is like a "guardian", a "mother", said renowned actor-filmmaker Aparna Sen as she appealed to the Trinamool chief to "change her stance a bit" and take a more humane view of the threats faced by doctors. "The Chief Minister is our guardian. I would request her to change her stance a bit on this issue and talk to the young doctors here. They are like your children. Please come here once and talk to them to sort out the problems," she said.

PGIMER doctors join protest

Over 1,200 resident doctors at the Postgraduate Institute of Medical Education and Research (PGIMER) held a demonstration to express solidarity with their protesting counterparts in Kolkata.

The functioning of the OPDs was partially hit due to the protest. 

However, Dr Uttam Kumar Thakur, president of the Association of Resident Doctors at the PGIMER, said all emergency services functioned normally and the on-duty doctors did not join the protest. 

The protest lasted for five hours from 8 am to 1 pm and the doctors returned to work after it.

Bengal doctors opt for mass resignation

Doctors of two Medical colleges have submitted mass resignations.

In a letter to the Director of Medical Education and Ex-officio Secretary, as many as 70 doctors submitted their resignations. 

As per informed sources, the number of doctors putting their papers down is rising steadily.

"We the following doctors of R.G. Kar Medical College have so far been trying our level best to run the hospital service smoothly. You are aware that the present situation is not ideal for patient care service," the doctors wrote.

"In response to the prevailing situation, as we are unable to provide service, we the following doctors would like to resign from our duty," they wrote in the letter.

A similar picture was noticed in North Bengal Medical College and Hospital in Siliguri.

"Already 15 senior doctors have submitted their resignation to Director of Medical Education and this figure may rise. It is not possible to carry on the services normally without the junior doctors," Sudipta Mandal, Assistant Superintendent of North Bengal Medical College and Hospital said as the ceasework by the Junior doctors of state-run hospital entered the fourth day. 

Odisha medicos join stir

Students of the SCB Medical College and Hospital and the members of the Odisha Medical Services Association (OMSA) took out a march in Cuttack on Thursday to protest against the brutal assault on fellow medicos of West Bengal.

Over 500 resident doctors, junior and interns of All India Institute of Medical Sciences (AIIMS) Bhubaneswar started a day-long strike on Friday, though emergency services at the premier health institute remained unaffected.

The Residents' Doctor Association, AIIMS, Bhubaneswar said they were saddened about the heinous attack on fellow medicos.

Raipur and Nagpur join in
Nagpur: Doctors with 'Save the Saviour' & 'Stand with NRSMCH' posters at Government Medical College, hold protest over violence against doctors in West Bengal. #Maharashtra pic.twitter.com/0jRGeW5qyF

— ANI (@ANI) June 14, 2019
#WATCH Resident Doctors at Raipur's Dr. Bhimrao Ambedkar Memorial Hospital raise slogans of 'We Want Justice' as they protest over violence against doctors in West Bengal. #Chhattisgarh pic.twitter.com/70BsCTmGLN

— ANI (@ANI) June 14, 2019
Patients' kin implore as strike continues

"Please resume the work and do not make the dialysis patients and pregnant women suffer as they are not at fault. I apologise on behalf of all the patients of Bengal," a patient's kin requested NRS medicos with folded hands. He pleaded the doctors to understand, saying poor people would suffer without treatment.

"There is nothing to apologise. Who are we to forgive? Our only demand is our security and we will continue the movement till we are given some assurance," said one of the protesting doctors at NRS.

A pregnant woman's family was denied treatment and she was told that the hospital would not take any responsibility.

NRS Medical College principal Saibal Mukherjee has resigned

NRS Medical College principal Saibal Mukherjee sent in his resignation to the Director - Medical Education on Thursday. The hospital's Medical Superintendent and Vice Principal Sourav Chatterjee also put in his papers.

Protests spread to Kerala
Kerala: Members of Indian Medical Association, Trivandrum hold protest over violence against doctors in West Bengal. pic.twitter.com/aOWGbqXxlx

— ANI (@ANI) June 14, 2019
Kolkata Mayor and West Bengal minister Firhad Hakim's daughter, a doctor, came up with strong criticism of Chief Minister Mamata Banerjee's handling of the ongoing doctors' strike and said medicos have the right to "peaceful protest" and "safety at work.

In a Facebook post, Shabba Hakim asked people to question why "goons were still surrounding hospitals and beating up doctors".

"As a TMC supporter I am deeply ashamed at the inaction and the silence of our leader," Shabba Hakim said on the social networking site close to Wednesday-Thursday midnight.

Doctors at Nizam's Institute of Medical Sciences in Hyderabad also held a protest march.
Hyderabad: Doctors at Nizam's Institute of Medical Sciences hold protest march over violence against doctors at West Bengal's NRS Medical College & Hospital. pic.twitter.com/Y3BsYjxTZ8

— ANI (@ANI) June 14, 2019
Chief Minister Mamata Banerjee's nephew Abesh Banerjee, a student at Kolkata's KPC Medical College Hospital, has joined the doctors' protest.
The medicos, affiliated to Maharashtra Association of Resident Doctors (MARD), stopped attending to patients in all the 26 government hospitals in the state simultaneously.
MARD General Secretary Deepak Mundhe told IANS the doctors would keep off all routine duties between 8 am and 5 pm and the hospital administration has been informed to ensure all other services are not hampered or patients inconvenienced.
A large number of doctors gathered outside the KEM Hospital with banners, posters and placards to express solidarity with the doctors who were assaulted in Kolkata.
Similar protests were also being held in Pune, Aurangabad and Nagpur by MARD members who are demanding adequate protection for their counterparts in West Bengal.
Delhi patients are the worst hit, as doctors support their Kolkata counterparts.
Delhi: Doctors at All India Institute of Medical Sciences (AIIMS) prepare to observe strike over violence against doctors in West Bengal. pic.twitter.com/pza71njjum

— ANI (@ANI) June 14, 2019
Delhi: Resident Doctors' Association, Safdarjung Hospital holds protest over violence against doctors in #WestBengal. pic.twitter.com/qFELP2hXuX

— ANI (@ANI) June 14, 2019
Delhi: Patients and their relatives outside the OPD at All India Institutes of Medical Sciences (AIIMS). Resident Doctors Association (RDA) of AIIMS is on strike today over violence against doctors in West Bengal. pic.twitter.com/rRCeZqDfxr

— ANI (@ANI) June 14, 2019
THE CASE
The protests erupted on Tuesday morning in Kolkata's state-run NRS Hospital bringing the regular services to a standstill, after a junior doctor was allegedly beaten up by the kin of a 75-year-old patient who died there late on Monday night.
The family members of the deceased patient alleged medical negligence. An intern named Paribaha Mukherjee sustained a serious skull injury in the attack and has been admitted in the intensive care unit of the Institute of Neurosciences in Kolkata's Park Circus area.