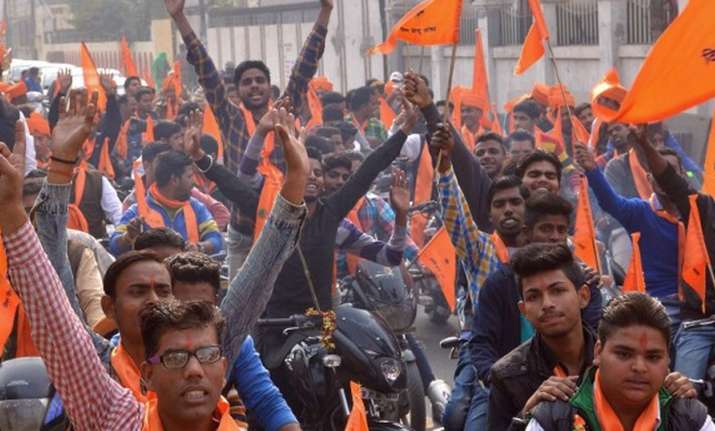 The Vishwa Hindu Parishad's (VHP) cow protection department has advised its cow vigilantes in western UP, Braj region and Uttarakhand to beat up cattle smugglers, but refrain from breaking their bones. 
The fresh advice comes close on the heels of Prime Minister Narendra Modi slamming anti-social elements who donned the role of cow-protectors by night to save their own skin. 
VHP leader Khemchand, a member of the cow protection department's central committee, however, disagreed with the Prime Minister. 
Addressing a gathering of top gau rakshaks from western UP, Braj region and Uttarakhand, Khemchand said "cow protection, not 'Make in India' will save the country." He also called for non-VHP volunteers to be enlisted to ensure that no illegal cattle trading is carried out. 
 

"I often say to my workers - maaro magar haddi mat todo (beat them up but don't break their bones). If you break someone's bones then you will get into trouble with the police. Some people show off by shooting viral videos of them beating up cattle smugglers. There is no need for them to do that," said Khemchand. 

 
Last month, Punjab Gau Rakshak Chief Satish Kumar was charged for allegedly beating up some people he accused of being cattle smugglers. 
In June last year, a video of a Bajrang Dal member Vivek Premi had gone viral in which he could be seen beating and parading a Muslim man for allegedly slaughtering a cow in Shamli. He was later charged under the National Security Act. 
The latest incident that kicked up a huge row came from Una in Gujarat where Dalits were beaten up skinning a dead cow. After the video went viral, Prime Minister Narendra Modi had expressed his anger at 'self-proclaimed gau rakshaks' and had called for stringent action against fake cow protectors saying that come people want 'tanaav' (tension) in the society in the name of 'cow protection'.