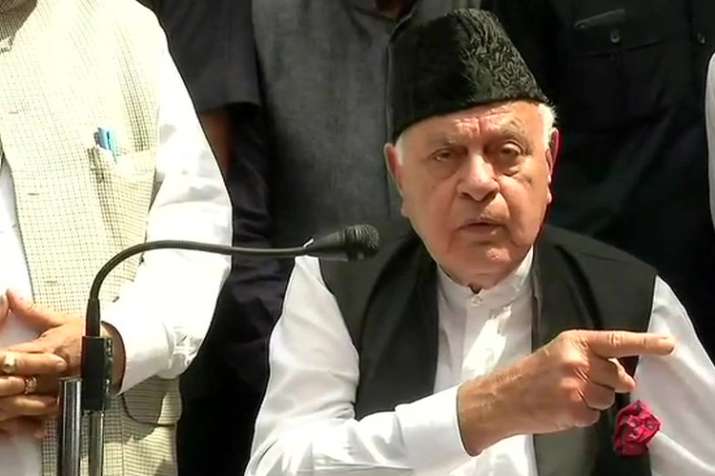 Former Jammu and Kashmir chief minister and National Conference president Farooq Abdullah has threatened that his party will boycott the upcoming panchayat polls in the state as well as the 2019 Lok Sabha polls if the Centre doesn't clear its stand on Article 35A and Article 370. 
"We will not only boycott panchayat elections but also Lok Sabha and Assembly elections if the Centre doesn't clear its stand on Article 35A and Article 370," Abdullah told reporters on Saturday during an event in Srinagar. 
Responding to a question over Punjab Minister Navjot Singh Sidhu's visit to Islamabad to attend Imran Khan's swearing-in ceremony and the controversy which erupted after the cricketer-turned-politician hugged Pakistan Army chief General Bajwa, Farooq Abdullah said there are elements in both the countries which do not want peace in the region.
"The manner in which media targeted Sidhu shows there are elements which don't want India-Pakistan relations to improve. There's vested interest, both in India and Pakistan, which don't want peace in both countries. But for people of Jammu and Kashmir, India-Pakistan friendship is essential," Abdullah said.
The region recently witnessed protests by separatists against any change in Article 35A and Article 370.
The Supreme Court on August 31 adjourned to January next year the hearing on a batch of petitions challenging the Constitutional validity of Article 35 A, which provides special rights and privileges to natives of Jammu and Kashmir, after taking note of submissions of the Centre and the state government that there was a law and order problem in the state.
Political parties, including the National Conference and the CPI(M), have moved the Supreme Court in support of Article 35-A that empowers the state assembly to define "permanent residents" for bestowing special rights and privileges to them.
The state government, while defending the Article, had cited two verdicts of the constitution benches of the Supreme Court in 1961 and 1969, which had upheld the powers of the President under Article 370(1)(d) of the Constitution to pass constitutional orders
The Article was incorporated in the Constitution in 1954 by an order of President Rajendra Prasad on the advice of the then Cabinet headed by Jawaharlal Nehru.