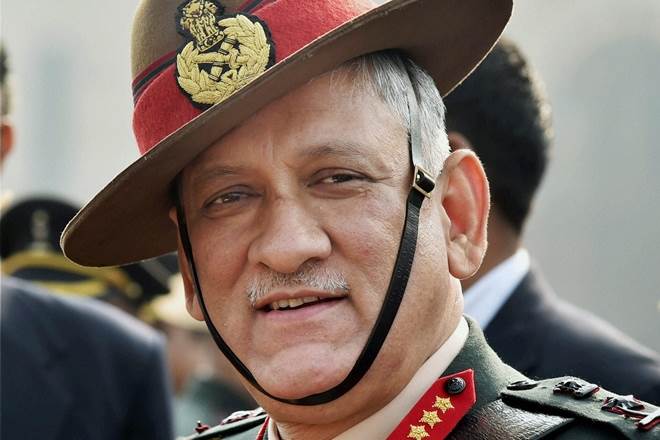 As a young boy, every morning Gen Bipin Rawat donned the school uniform, but, he said, in his heart he always desired to wear the Army's olive green uniform. 
And, while life came full circle for him, when Rawat rose to become the 27th Army chief, this general, who hails from Uttarakhand, said, he had "not forgotten" the human lessons learned during his early education.
In an interaction, yesterday, with a group of students from Rajouri district of Jammu and Kashmir, Gen Rawat urged them to never comprise on hard work or get disheartened by failures. 
"Never underestimate the potential of someone, who has failed. Because, such people, if they resolve, work harder and may move ahead in life farther than those who have succeeded," he said. 
The Army chief then walked down memory lane, to his schools days to, emphasise the point. 
"There was a student, who was a senior to me by one year. He failed his class, so he came to our class (9th). In class 10, he gave a moderate performance, and passed, but in Class 11, he topped. 
"It took us all by surprise. When the results were put up on the board, his name was right there on the top. I was in top five, but his performance and determination showed that people who fail, can end up as a great motivational story," he said. 
Rawat, dressed in the olive green uniform, said, that student went on to become a reputed doctor. 
Later on the sidelines, sharing his childhood dream, the Army chief said, "Yes, I always wanted to be in the Army and serve the nation." Rawat, who was awarded the prestigious Sword of Honour at the Indian Military Academy (IMA), Dehradun, said, Army life always fascinated him from very young. 
Gen Rawat, who took over the baton from Gen Dalbir Singh Suhag on December 31, 2016, has an illustrious career with vast experience in high altitude warfare and counter-insurgency operations. 
He commanded an infantry battalion, along the Line of Actual Control in the Eastern Sector, a Rashtriya Rifles Sector and an Infantry Division in the Kashmir Valley, a Corps in the Eastern theatre and the Southern Command. 
Rawat was commissioned in the Fifth Battalion of the Eleven Gorkha Rifles in December 1978 from IMA. 
An alumnus of Defence Services Staff College, Wellington, he has been awarded various medals of high honour for gallantry and distinguished service in a span of nearly 40 years in uniform. 
Rawat commanded a Multinational Brigade in a Chapter VII mission in the Democratic Republic of Congo. While serving with the United Nations, he was twice awarded the Force Commanders Commendation. 
But, despite such achievements in the field, this Army chief doesn't intend to rest on his laurels. 
"Also, remember that success is short-lived. The period of glory is just for a while, and you have to continue to work hard to stay successful," he told the students.