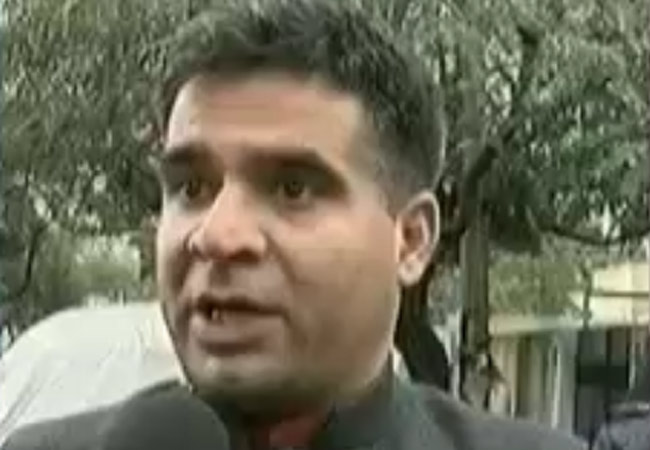 Jammu: BJP legislators from Jammu and kashmir have demanded  airstrikes on Pakistan-based terror camps in the wake of Saturday's  terror attack in Pampore which left eight paramilitary soldiers dead.
The BJP's state unit has also urged the centre to review its Pakistan policy following Saturday's militant attack on the Central Reserve Police Force (CRPF) in Pampore.
Party's state unit inside and outside Jammu and Kashmir Assembly called for "bombing Pakistan" and asked Prime Minister Narendra Modi led government to call off talks with Pakistan.
The BJP MLAs on Monday raised anti-Pakistan slogans in the legislative assembly while demanding strict action against the neighbouring country.
BJP leader, Ravinder Raina, said for the first time anti-Pakistan slogans have been raised in the Jammu and Kashmir Assembly.
"This is very unfortunate. Pakistani militants are continuously attacking our jawans. Our jawans are getting sacrificed. Air strikes on terrorist camps in PoK should be made so that this does not happen again. The nation will not accept further sacrifices. The assembly has condemned the attacks on jawans," he said.  
Urging government to give free hand to Indian army and Indian Air Force to attack Pakistan, Raina said the neighbouring country should be given answer in their own language.
"Pakistan is unleashing blood bath in Jammu and Kashmir. Pakistanis are attacking Jammu and Kashmir. Civilians are killed; police army and CRPF camps are being attacked. Indian air force should be allowed to bomb terror hideouts in PoK. Pakistan is the root cause of terrorism," he said
The opposition National Conference asked the ruling Peoples Democratic Party (PDP) to clarify whether it wants war with Pakistan. The party's Davinder Rana said: "BJP's demand of bombing Pakistan has hit the people living on borders. They fear for their lives. The government should make a statement whether they want peace or war with Pakistan."
As soon as the House assembled for the day's proceedings, the NC MLAs today asked the speaker to allow them to speak on the security situation, which according to them was "deteriorating."
Nagrota NC MLA Devender Rana accused the BJP of creating "war hysteria" in the state. He said violent incidents take place along the borders when the government increases the number of troops.
Bullets are fired here (in Jammu and Kashmir) not in Nagpur," Rana said, in an apparent reference to the RSS headquarters.
Rana's comments infuriated BJP MLAs who shouted down the NC MLAs and created a din.
Speaker Kavinder Gupta intervened, saying the central government is capable of defeating Pakistani "designs" in Jammu and Kashmir.
Not satisfied with the Speaker's intervention, the NC MLAs shouted slogans against the government and staged a walkout.
Later during the proceedings, the ruling PDP MLAs Javed Hassan Beig and Mohammad Abbass Wani also staged a walkout expressing dissatisfaction with the government reply to Wani's question about rehabilitation of 'ponywallas' in Gulmarg tourist resort.