Follow us on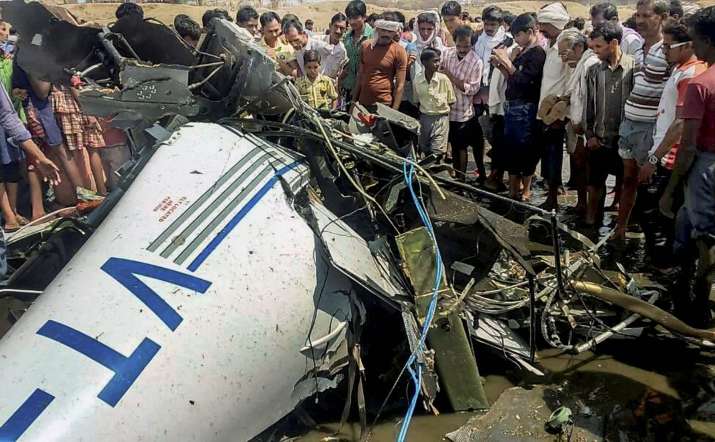 A training aircraft crashed into the Wainganga river in Gondia district of Maharashtra today, killing both the instructor and the trainee pilot who were on- board the four-seater plane. 
The crash took place at 0940 hours, according to the police, after one of the engines of the aircraft, DA42, got stuck in a rope-way, barely 20 minutes of its take-off from the Birsi Airport. 
The deceased were identified as senior flight instructor Ranjan Gupta (45) and trainee pilot Himani Gurudayal Kalyani (24), they said.
The mishap took place some 35km from the district headquarters of Gondia in Vidarbha region, police said. 
Aircraft Accident Investigation Bureau, a wing of the Civil Aviation Ministry, has launched a probe into the accident, a source said.
The bureau is mandated to probe all serious incidents and accidents involving Indian planes. 
The twin-engine aircraft belonging to the National Flying Training Institute, Gondia, was on a routine sortie with only the instructor and the trainee pilot on-board. 
It lost contact with the Mumbai Air Traffic Controller (ATC) just 20 minutes after taking-off, a police official said. 
The trainer aircraft was flying at a height lower than the one permitted by the ATC, he said. 
"The ATC had permitted the aircraft to fly at around 4,000-5,000 feet but it was at a much lower altitude. The aircraft had apparently developed a snag and for this reason the pilot was perhaps attempting a safe landing. 
"However, in the process, one of its engines got stuck in a rope-way, which connects Deori village with Laoni ghat on the Wainganga river, resulting in the crash," the official said. 
Soon after getting the information, which came from the district collector's office, senior officials from the police and local administration rushed to the accident spot, located near the Maharashtra-Madhya Pradesh border, he said. 
Sources said the aircraft broke into three and oil spill was visible in the river at Mahalgao-Deori.