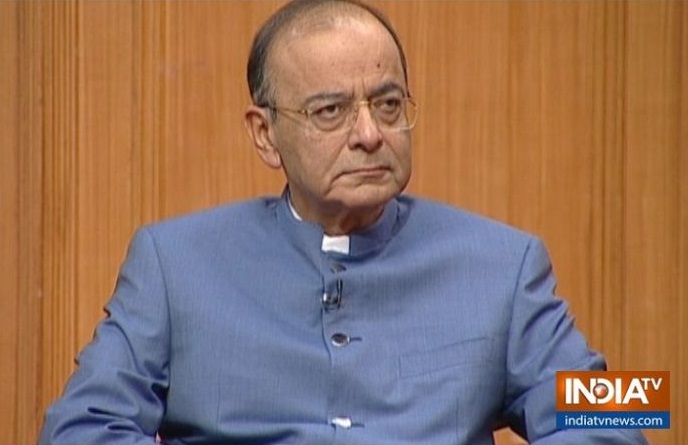 Speaking to India TV's Editor-in-chief Rajat Sharma in Aap Ki Adalat, Union Minister Arun Jaitley pointed out that it was the Pakistani army, and not its civilian government which first broke news about the air strike.
"The air strikes were over by 4 am, and at 4.45 am, the Pakistani army spokesman tweeted that Indian aircraft violated their air space and struck using 1000 kg payloads but were forced to flee.
 
"There are two plausible reasons, why the Pakistani army first broke the news. 
Also read | 'India has exposed Pakistan's nuclear bluff by carrying out air strikes', Finance Minister Arun Jaitley tells Rajat Sharma in Aap Ki Adalat
 
"First, the Pakistani army had created a big aura about its prowess among Pakistanis, and it did not want its image to be dented. That is why they tweeted that Indian aircrafts came, dropped 1000 kg payloads on an open area and fled," Jaitley said. 
 
"The second reason is more vital. Had the Pakistani army admitted about IAF aircraft crossing into its air space and bombing its buildings, the first questions that would have been asked were: What was the extent of damage? Experts would have come to survey, and if they had found these buildings, with swimming pool, gymnasium, training ground, they would have asked who were the people staying inside? Pakistan would then have to reveal the names of scores of Jaish commanders, the old and new fidayeen who died inside," he added.
But despite its attempts to hide the facts about terror camps on its soil, Pakistan will still face consequences. 
Also read | Arun Jaitley on Aap Ki Adalat: Unfortunate that Pakistan drawing strength from those who question our operations
 
The UN Security Council is now going to impose sanctions against Jaish-e-Mohammed, and the FATF (Financial Action Task Force) has put Pakistan in the 'grey list', the minister said, adding that in order to hoodwink both the UNSC and FATF, Pakistan is carrying out a charade of banning JeM and Jamaat-ud-Dawah and sealing their offices and madrasas.
'Aap Ki Adalat' show with Finance Minister Arun Jaitley was telecast on Saturday at 10 pm on India TV. The show will also be telecast tomorrow Sunday at 10 am and 10 pm. 
Also read | Arun Jaitley in Aap Ki Adalat: Full Highlights