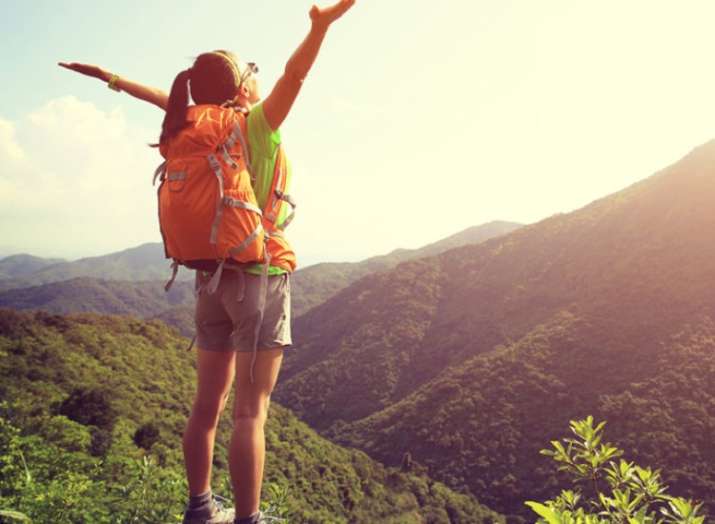 Monsoon getaways in India are sadly underrated. The common notion is that all the vacay-worthy spots are gloomy the shower season. What if we tell you, that some places are best savoured during the rains. Here are some of the most affordable destinations around Bangalore as recommended by Travelyaari and Cleartrip:
Gokarna
Some chill time in #Gokarna. What a great alternate to Goa! pic.twitter.com/IV30gmEaju

— MotoStories.in (@MotostoriesIn) December 28, 2017
Beaches are only sought after by many when the sun is out and the sands are hot. What this means is you can take advantage of this culture-rich beach destination at a fraction of the price. Trek hillocks for splendid beaches, sip at quirky cafes or just unwind at one of the many hotels which are always a walk away from the beach! This hippie-hotspot is an 8-hour scenic drive or just an overnight bus from the city.
Coorg
Morning tea view from my balcony 😍😍😍 #Coorg #traveldiaries pic.twitter.com/qtMzvlWIHN

— Surbhi Jain 🇮🇳 (@SurbhiJain03) July 8, 2018
Sunset was never so beautiful..
.
.
.#SUNSET #light #Coorg #coorgdiaries #serene #happiness #beautiful #colours #nature @incredibleindia #naturephotography #india #incredibleindia #traveldiaries #photographer #photography #travelphotographer #mobilephotography #travelphotography pic.twitter.com/fDXwQhbUOR

— Priyanka Baranwal (@PriBaranwal) July 7, 2018
As cliched a plan to Coorg may sound, it is just one of those unbeatable experiences in the monsoon. Victorian style home stays nestled in the middle of hilly estates is the best place you can be when it's pouring out and all green. Trek one of the numerous hills or a little sightseeing and coming back to your cosy cottage to sip your favourite drink for the evening along with the signature pork is what you call - Quality Time!
Yercaud
Kiliyur falls #yercaud pic.twitter.com/YqZ3cOeoKC

— DAVIDRAJA (@davidrajak4) July 6, 2018
It is one of those places, which you don't hear people talk about. Placed among the castling Shevaroy hills, Yercaud is one the perfect offbeat monsoon destinations of all time. Visit numerous waterfalls which come alive for the season, take a stroll around the famous Yercaud Lake which is complete with a park or just soak in the views offered by the many vantage points. This hilltop is also a popular hiking destination if you're feeling adventurous. These experiences, among many, make this place a top-rated weekend monsoon getaway from the city being just a mere 4 hours away from Bangalore.
Chikmagalur
A city nestled among the Western Ghats, it is one of the most sought-after weekend destinations among many travellers. During the monsoon, experiences are even better all around this hill city. Striking off the famous Mullayanagiri trek from your bucket list is only the start of what you can do here. Comfortable and budget-friendly stays among the hills, which often come with a view puts the icing on the cake!
Wayanad
#photooftheday #Wayanad #wildlife Sanctuary #Kerala is wonderful place to be in and experience #wilderness. #incredibleindia #nature #ecotourism #sustainable
Shared via Incredible India Calendar. pic.twitter.com/nnlmAqMUY9

— Venkat Dhattareyan (@dvenka) July 12, 2018
One of the many gems that the 'God's own Country' has on offer this whole district is a nature lover's paradise. Winding roads sided with either estates or forests leading to paradise-like landscapes like the Banasurasagar reservoir or the many wildlife reserves rich with flora and fauna is where you want to be when the rain is doing its magic. Activities like treks or any other adventure sports are plenty on offer.
Varkala
Probably one of the most underrated and non-commercialized destinations in all of Kerala has naturally become a hippy paradise. Pristine shorelines, age-old Hindu temples and the Anjengo fort make this place well worthy over a monsoon weekend. Cliffside cafes which play world music, stalls selling the rather popular baggy clothes and the whole backpacker vibe the town gives out. All this cannot be missed as there are much affordable travel and beachside accommodation, which makes you look forward to a rainy weekend by the beach.
​
(With ANI inputs)