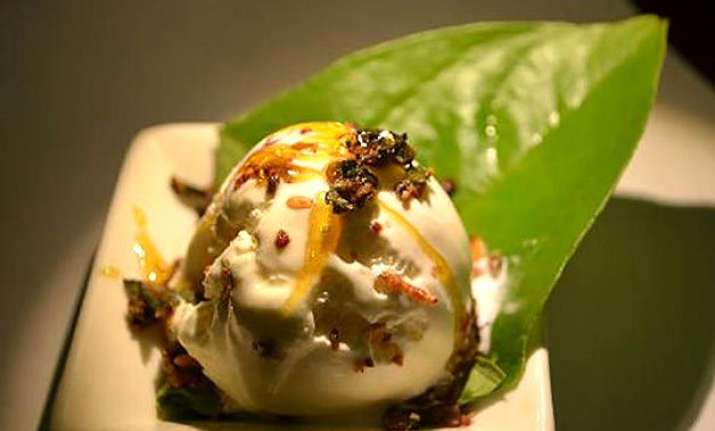 Holi special dessert: Exotic Paan ice cream
Holi or the festivals of colours is around and all you do apart from delving yourself in happy hues is relishing your taste buds.
While such a grand festival constitutes a great array of traditional food items, it is always intriguing to savour something that is as lavishly modern in taste as quintessentially rooted to the grounds it is.
And when enjoying vibrancy of Holi in India, how can the legacy of 'Paan' remain untouched.
Follow a few easy steps and treat your guests this time with an exotic ice cream flavour that has years of legends attached to it.
Ingredients:
2-3 Paan leaves (Betel leaves)
3-4 chopped Paan (Betel leaves)
2 meetha Paan (sweet betel leaves)
3 table spoons fennel seeds (Sauf)
5-6 cups milk
6-7 table spoons of Khoya and Mawa (dry fruits)
Sugar 2-2 ½ table spoons
Gulkand 1-1 ½ tablespoons (preserve of rose petals)
Green cardamom powder 1-1 ½ tablespoons (hari ilaichi powder)
1 table spoon caramel crunch (optional)
Method:
1. Boil milk till it gets reduced to 1/3 of its volume and once boiled, add sugar, Khoya, Mawa and mix thoroughly. Leave it to get cool.
2. Once it is as normal as on room temperature, add fennel seeds, Gulkand, green cardamom powder, chopped Paan leaves and Meetha Paan. Blend the entire mixture well, pour it in an ice cream tin and cover it with lid.
3. Once properly tightened, keep it for deep freezing for 5-6 hours till it looks properly frosted.
4. Spread a pinch of caramel crunch (optional) on the Paan leaf and place a slice of ice cream on it. Wrap the ice cream in the leaf and secure it with a toothpick.