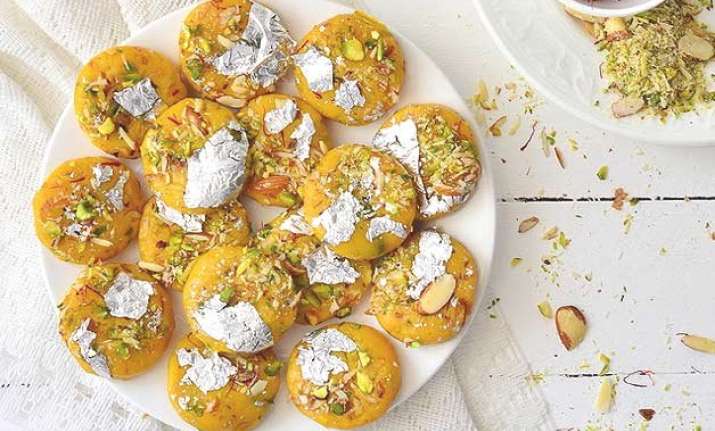 Easy sweet recipes for Navratri special food items
New Delhi
: Navratri days are the best time to serve oneself with some of the most deliciously healthy food items. While no way you can resist those tempting and creatively cooked aloo and other stuff - say kutu ki puri, anardana chatni or sabudana khichadi; you would definitely love treating yourself to a good dessert.
And for of those of you craving that sweet tooth this Navratri, we present you an easy recipe to make 'kele ki barfi.' Try the following steps:
Ingredients:
Riped bananas - at least 4 (or more if you desire)
Ghee - 2 tablespoon
Chopped dry fruits - 2 tablespoon
Grated coconut - 1 tablespoon
Sugar - 2 cup
Milk - 2 cup
Also read:
Method:
1. Mash the bananas thoroughly.
2. Pour the milk in a pan and add mashed bananas to it.
3. Cook them well until they get a bit dry.
4. Now ad ghee to the mixture and cook until a slightly brown coloured mixture is formed.
5. Add sugar and coconut to the mixture and cook on low heat for sometime till sugar gets completely melt.
6. Now add chopped dry fruits to the mixture and leave it to dry for sometime. Once dried, cut it in pieces or give it a shape you desire.