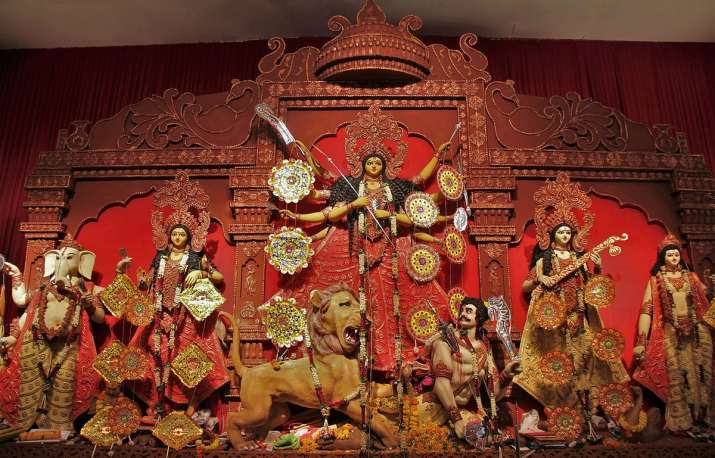 Durga Puja 2017 or Pujo as Bengalis say, is one of the most popular and most-awaited Hindu festivals. This year, Durga Pujo is all set to start from September 26 and devotees across the nation can't wait to welcome Durga Maa. The holy ritual of this Indian festival involves ten days of fast, worship and grand celebration. However, it is the last four days--Saptami, Ashtami, Navami and Dashami, that grab much attention, particularly in West Bengal, where Durga goddess rides the lion and, worshippers welcome the ultimate protector with great passion and devotion.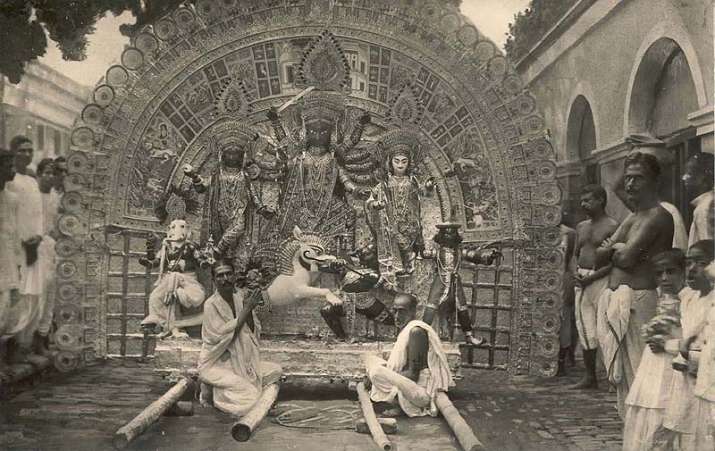 Durga Puja history
The first Durga Puja was said to be celebrated way back in the late 1500's, which was initiated by landlords of Dinajpur and Malda. Meanwhile, several people believe that the first Durga Puja was organized by Bhabananda Mazumdar of Nadiya or Raja Kangshanarayan of Taherpur around 1606.
The first mass celebration or community puja can be traced back to 1790 when twelve friends from Bengal teamed up and collected contributions and conducted first community puja. The celebration was called the 'twelve-pal' puja or the 'baro-yaari' puja, which was introduced in Bengal's capital Kolkata in 1832.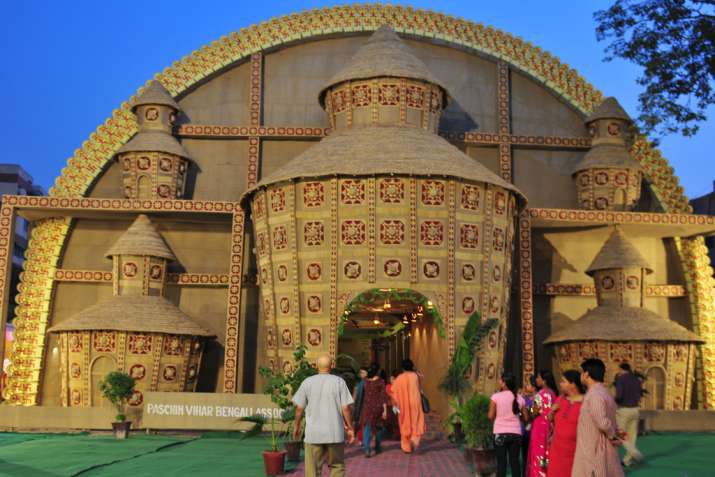 Pratima and Pandals
Traditional clay image of Goddess Durga is known as Pratima, which is made up of clay. Two kinds of embellishments are used on the clay--sholar saaj and daker saaj. In sholar saaj, the pratima is decorated with white core of the shola reed. As the time went by, beaten silver was started being used. 
The enormous temporary canopies, which are held by a framework of bamboo poles and wrapped with bright fabric are known as pandals. As compared to the traditional ones, the modern day pandals are innovative, artistic and decorative. They offer a visual spectacle for the visitors who go 'pandal-hopping' during the holy festival of Durga Puja.
Durga Puja significance
Durga puja is considered auspicious as it celebrates the victory of good over evil. It is believed that on this day Maa Durga killed the demon Mahishasura. In West Bengal, the streets are lit up with LED lights and, it is said over 45000 Durga pandals are set up in the streets of Kolkata. 
In Assam, the festival is the only religious jubilee that is celebrated with much dedication as the Bihu is a secular festival. Besides, eastern India, the festival is also celebrated in Maharashtra, Gujarat, Delhi and Karnataka, Andhra Pradesh.
The importance of the Durga Puja increased during the British rule in Bengal and Assam. The Hindu reformists identified Durga with India and consequently, Durga became the vital symbol for the Indian Independence movement, according to history.
Durga Puja 2017 will start from September 26 and end on September 30 and, be it Bengal, Assam or Maharashtra, the festival will be celebrated in full swing with slight differences here and there. Every city will have brightly decorated pandals with varied themes and spectacular Durga Maa idols. 
For more lifestyle news and updates, follow our Facebook page