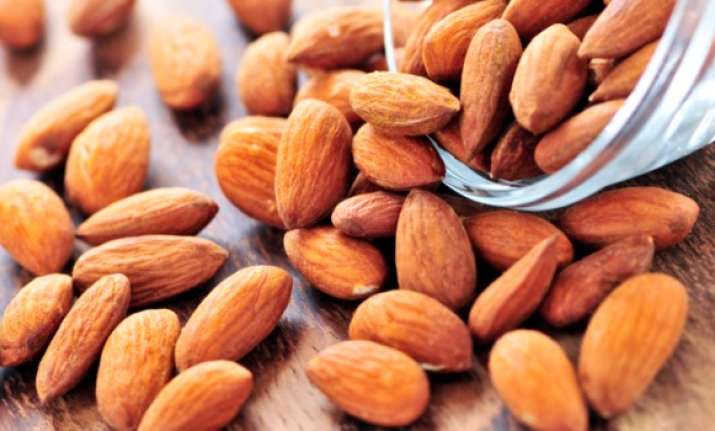 Remember the time when our mothers used to feed us with almonds every day. We disliked this daily duty of hers, though we were quite aware of its benefits. But now here's a new reason that will make you include almonds in your daily routine. With changing lifestyles and increased exposure to junk foods, cholesterol has become a common health problem. Munching about a handful of almonds daily may help in removal of bad cholesterol, new research suggests. Not only this, it also boost the level of good cholesterol in the body as well as improve its functionality, 
The findings showed that the almonds not just increased the levels of good cholesterol - high-density lipoprotein (HDL cholesterol), but also helps remove the bad cholesterol - low-density lipoprotein (LDL cholesterol) - from the body. Almonds works by gathering cholesterol from tissues, like the arteries, and helping to transport it out of the body.
"HDL is very small when it gets released into circulation. It's like a garbage bag that slowly gets bigger and more spherical as it gathers cholesterol from cells and tissues before depositing them in the liver to be broken down," said Penny Kris-Etherton, professor at the Pennsylvania State University. 
Depending on how much cholesterol it has collected, HDL cholesterol is categorised into five "subpopulations", which range from the very small pre-beta-1 to the larger, more mature a-1. In the study, in the paper published in the Journal of Nutrition, the team, in two six-week experiment analysed a group of people who ate 43 grams -- about a handful -- of almonds every day, and the same group when they ate a banana muffin. The results showed that eating almonds resulted in increased a-1 HDL by 19 per cent as well as improved HDL function by 6.4 per cent - indicating a decrease in the overall risk of cardiovascular disease.
"Almonds not a cure-all, but when eaten in moderation - and especially when eaten instead of a food of lower nutritional value -they're a great addition to an already healthy diet," Kris-Etherton said. 
Almonds doesn't completely eliminate the risk of heart disease but it is a smart choice for a healthy snack. It is a nut with high nutritional values compared to others and a rich source of vitamin E, calcium, phosphorous, zinc, iron magnesium and copper.
(With inputs from IANS)