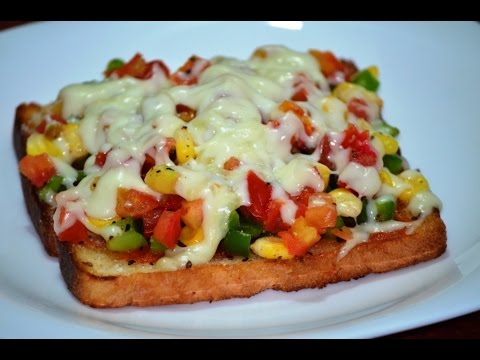 When it comes to breakfast, everyone wants to get it quick and easy. Oily breakfast is not only bad for your health, but also leaves behind a sluggish feeling that lingers on throughout the day. Packed foods are good but don't work everyday. Hence, today we are going to tell you a quick and easy way to make delicious bread pizza for the breakfast. Don't have microwave oven? No worries. This quick breakfast recipe will work just fine on a frying pan and a gas stove as well. The ingredients required to prepare this dish are easily available in a regular kitchen.
Bread Pizza Ingredients
Bread
Tawa (Pan)
Pizza Sauce
Refined Oil (Olive Oil)
Onions
Tomatoes
Capsicum
Sweet Corn (Steamed)
Mushroom (optional)
Oregano
Red Chilli Flakes
Crushed Black Pepper
Bread Pizza Recipe
Heat a tawa on the gas stove. Add around ½ teaspoon of oil on it. Keep the flame to lowest.
Place a bread slice on it. Toast the bread and then flip it.
Smear some pizza sauce on the lightly toasted side. Add onion cubes and the chopped veggies on it.
Sprinkle some oregano and black pepper. Add salt to taste.
Top the bread pizza with some mozzarella cheese.
Place the lid and keep the flame to the lowest.
Cook till the cheese melts.
Sprinkle some oregano and red chilly flakes for the garnishing. Serve it hot.