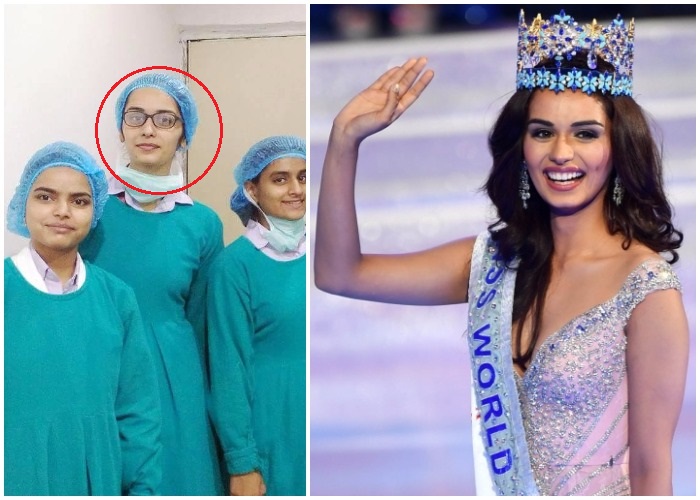 The gorgeous medical student Manushi Chillar brought glories to our country last week when she earned the coveted Miss World 2017 crown. Ever since then, the newly-crowned Miss World is the most discussed topic right now. But let us tell you, Ms Chillar wasn't as stunning as she is now. It took a lot of hard work and determination to become what she is today. Going through her old Instagram pictures, we can barely recognise that the young beauty in the pictures is none other than the Miss World 2017 herself. Have a look and you can't be more surprised!
In this picture, the ravishing beauty is clad in a lab coat with a no-makeup look. Behind those spectacles are the eyes that wooed millions of people a week ago. Her glamorous makeover was outstanding and we have to admit it.
The 20-year-old Chillar was as beautiful as she is now. But her impeccable grooming and polishing brought her where she is today. Now, she is looked upon as a paramount of Indian beauty by millions of people in the country. It's surprising as well as delightful to see how a medical student from Haryana transformed herself to become the beauty queen of the world.
Speaking on the difference the 'Miss India touch' and pageant prep has made to the likes of Chillar, designer Dilnaz Karbhary, who has worked for actors Jacqueline Fernandez and Richa Chadda, among others, says, "It's no secret that beauty pageant winners have the ability to change their looks with top professionals, including pageant training and personality development experts, at their fingertips."