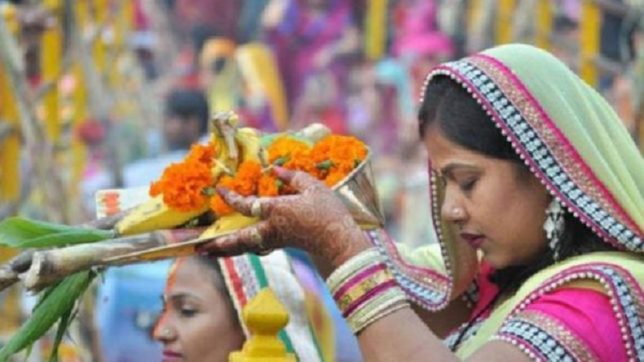 Chhath is a four-day festival in which prayers are offered to the Sun God – Lord Surya. Jeet who is considered to be the god of energy is also worshipped during this festival for wellbeing and prosperity. This year, Chhath will be observed from November 11 to November 14 . During this festival women of the house observe fast and pray for the wellbeing of their children and household. Today marks the second day of Chhath Puja 2018, which is known as Kharna.
Gur ki Kheer, Kaddu-Bhaat, and Thekua–Gujiya, is all that makes Bihari's nostalgic about the land they grew up in. However, the second day of Chaiti Chhath puja is known as Kharna. On Kharna, devotees observe Vrat for a time-period of almost 8 to 12 hours.
Lohanda and Kharna Puja 2018 Muhurat
12 November 2018
Sunrise at 05:43
Sunset at 16:57
Lohanda and Kharna Rituals
On this day devotees keeps fast for whole day and break their fast in the evening after sunset after the worship of Sun. People terminate the fast during evening after performing Surya Puja. With the end of Surya Puja, Prasad (sacred food offering) is distributed among everyone.They offer Rasiao-kheer, puris, fruits in the puja.
After taking meal in the evening, they go on a fast without water for the next 36 hours.A day before Kharna, Nahaye khaye is observed where 'Nahai' means to bathe, and 'Khai' means to eat. On the first day of Nahai Khai, devotees take a holy bath in a holy lake or river, to purify their sins. Then, they worship Lord Surya.
Water from the holy river is carried to homes, which is later used in cooking food offerings for Surya which then continues for the next 36 hours. On this day devotees eats rice, gram pulses, and pumpkin vegetables sans onion and garlic.
After eating the food sometime mid-noon, the Parvatin (devotee) starts the waterless-fast which is broken only the next day evening while observing 'Kharna' the second day of Chhath Puja. During this period of three nights and four days, the worshiper observes purity and sleeps on the floor. Since it falls in winter, a bed on rice straws is made by putting a blanket on it.