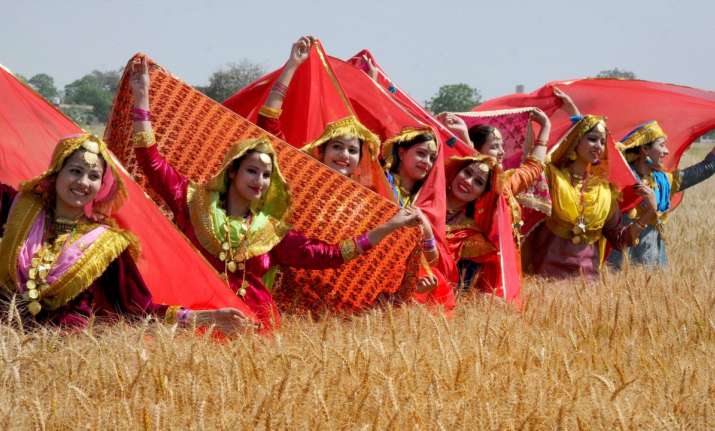 India is a land where each and every festival is celebrated with great pomp and show. There is a historical connection to every festival, which makes them even more significant. One of the most vibrant festivals of India, Baisakhi will be celebrated on April 14, 2018. Every year, Sikh community celebrate this festival either on 13th or 14th April, according to Nanakshahi calendar. In Assam, people celebrate Bihu, in Tamil Nadu it is known as Puthandu, in Kerala Vishu is celebrated on this day while Bengalis celebrate Pohela Boisakh
History 
Baisakhi is a sacred festival of Sikh community which dates back to the year 1699. It was the time when people of India were terrified by Mughal emperor Aurangzeb's tyranny. After going through oppression, people approached ninth guru of the Sikh community, Guru Teg Bahadur for help. Guru Teg Bahadur fought a valiant battle, however, he and his followers were defeated. They were asked to accept Islam, refusing to which they were beheaded publicly. He was succeeded by Guru Govind Singh, who on the auspicious day of Baisakhi asked for people who are ready to sacrifice their lives for Guru. Five people came forward and they later came to be known as Panj Pyaare, founding members of the Khalsa community. Since then, the day marks the foundation day for the Khalsa community.
Importance
Baisakhi is celebrated in a grand manner at the Keshgarh Sahib Gurudwara, Anandpur because it is where Guru Govind Singh invited people to get baptized into Sikhism. Besides historical significance, the day is also celebrated as a harvest festival. After celebrating Lohri, farmers celebrate Baisakhi with great fervour. During April, Rabi crops, those sown during winter season are harvested. Dhols are played and traditional songs are sung.
Baisakhi also marks the foundation day of Arya Samaj founded by Swami Dayanand Saraswati. Also, as per legends, Gautam Buddha attained Nirvana in Gaya, Bihar on Baisakhi.
How is it celebrated?
The foundation day of Khalsa Community is a sacred day. People all across the country visit Gurudwara to offer prayers and attend Kirtan Path. They seek blessings for happy and prosperous life. Processions are carried out and Nagar Kirtans are held. Devotees walk around the cities, singing hymns and prayers from the Guru Granth Sahib.
Muhurat
Baisakhi puja can be done throughout the day, however, as per Shubhpuja.com, it is recommended to perform during the Abhijit Muhurtam, from 11:56 AM to 12:46 PM.
Happy Baisakhi to all!
For all latest news, keep checking our Facebook page