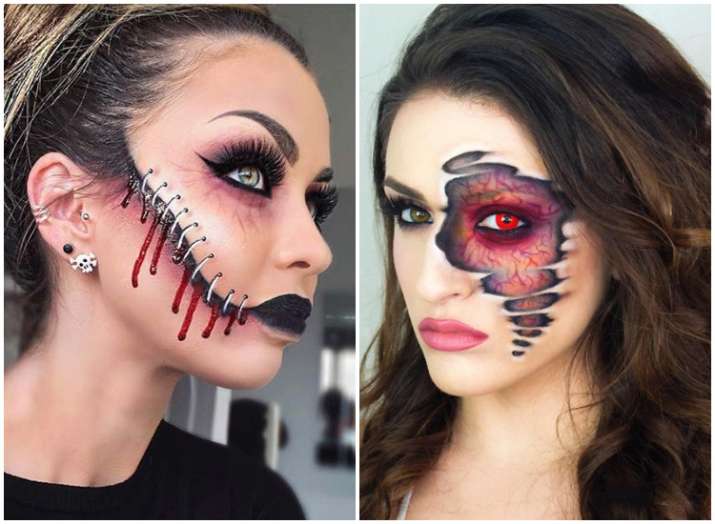 Halloween celebrations in India are on the rise, thanks to the young and cosmopolitan crowd. If you are attending such an event and have your costume sorted but wondering about the make up, make sure you are getting few tricks in place.
While the festival is observed every year on 31st October with scary-themed look and make-up, here we have shared a few quick tips and tricks for you to keep in mind!
Test your skin 24 hours prior
First step to trying anything new on your face is to do a skin test at least 24 hours prior. Though one doesn't have to spend on expensive makeup for one day, make sure you buy approved makeup for face.
Choose light-shade base for zombie-look
Let's start with the base. If you are dressing up as a zombie, ghost, witch, vampire or a mummy, go for a pale look. Your base should be a few shades lighter than your skin tone to achieve this. For other looks, your regular base should be fine.
Complete vampire-look with red eyes
First thing, people look at the eyes, so make sure your eye make-up is good. Dark gray or black eye shadow suits most of the dark characters. Deep red blended with black is perfect for vampire-look. One can also use crystal stones or tattoos around the eyes. If you are comfortable with lenses, adding coloured ones would take your costume a notch higher.
Go for deadly dark-tone wigs
Your hair depends on the costume. You can buy or hire a colorful, fancy wig at very reasonable prices from party shops or online. If you don't plan to use wigs, then you can use a hairspray to set your hair. Coloured and sparkly hairspray can also be used which are available in the market.
Opt for gold and shimmery lips
Red, burgundy, black, or purple are the shades for the Halloween season. Apart from these basic shades, gold and shimmery lips can also be played with. A quick tip is to outline the lips with eyeliner pencil to check if you are happy with the shade, as they are easy to remove and smudge less than your lip colour.
Don't forget your nails!
Once again, perfect opportunity to get creative with all those colours and nail art, you have been collecting over the years. If you don't feel like spending too much time on nails, black or white should do the trick.
(IANS Inputs)
For latest Lifestyle updates, check out our Facebook page!