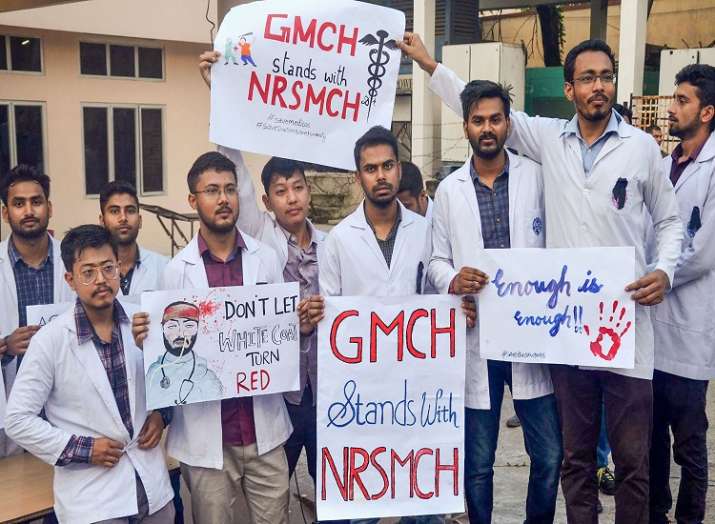 The Indian Medical Association (IMA) called for a nationwide protest on Friday in order to protest against the rising number of violent attacks against doctors in the country. This came after a student doctor at Kolkata's NRS Medical College was attacked by a mob, leaving him with a serious injury.
Here is why doctors across India are protesting:
After the doctor suffered serious injury, massive outrage among the medical community, with several doctors from the state of West Bengal's healthcare sector threatening mass resignation came up on Friday. Not only in West Bengal. doctors all over the country protested to express solidarity with their protesting colleagues in Kolkata.
West Bengal Chief Minister Mamata Banerjee asked the doctors to stop all protests and asked them to go back to work. She also accused the Bharatiya Janata Party (BJP) of using the incident to create communal tension in the state.
The joint forum of junior doctors demanded unconditional apology of Chief Minister Mamata Banerjee for the manner in which she had addressed them at the SSKM Hospital yesterday.
Listing conditions to call off the strike, the agitators said Banerjee will have to visit the injured doctors at the hospital and her office should release a statement condemning the attack on them.
Doctors also demanded immediate intervention of the chief minister and documentary evidence of judicial inquiry against the inactivity of the police to provide protection to the doctors at the Nil Ratan Sircar Medical College and Hospital.
The agitators also demanded unconditional withdrawal of all "false cases and charges" which were imposed on junior doctors and medical students across West Bengal in the wake of strike and also stressed on their demand for improvement of infrastructure in all health facilities as well as posting of armed police personnel there.
Over 200 senior doctors of various state-run hospitals across the state tendering resigned from their services to show solidarity with the agitators.There was a complete shutdown of all out patient departments (OPDs), routine operation theatre services and ward visits, except emergency services in the hospitals. 
The Indian Medical Association (IMA) took note of the issue and announced that protests would be held throughout the nation in view of rising incidents of violence against doctors and medical personnel. The association also asked members of all its state branches to stage protests and wear black badges. However, IMA stated that patient services, particularly emergency services, will not be affected by the protests.
The doctors' strike spread across India with the doctors' association of AIIMS showing full support to their West Bengal colleagues. Doctors in Delhi, Mumbai and other cities in India, especially AIIMS hospitals in the national capital, Raipur, Patna and Punjab observed protest shutdown. Resident doctors in several government hospitals in Kerala and Hyderabad also staged protests. Doctors from Andhra Medical College in Andhra Pradesh's Visakhapatnam too staged protests in support, as did doctors from Tamil Nadu, Kerala, and Karnataka.
Watch Video: 
Also Read: Patients suffer due to 9-to-9 shutdown at West Bengal government hospitals