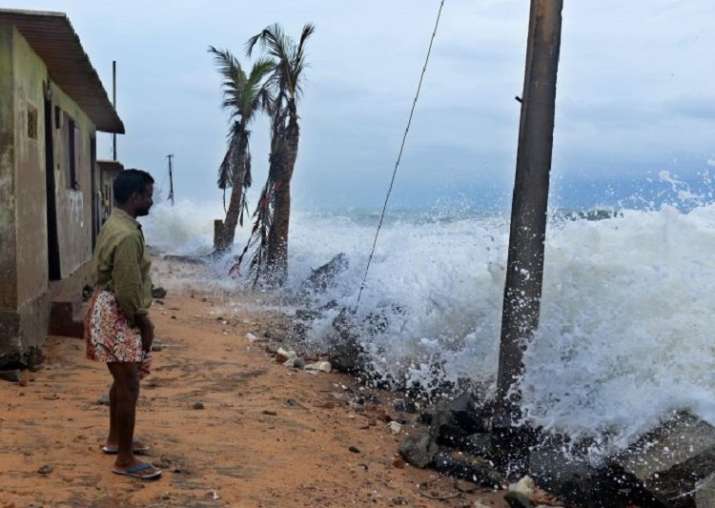 India is one of those countries that are highly prone to natural calamities, including, floods, drought, earthquakes, cyclones and landslides. In the past many years, cyclones have been a part of the country, the southern part of the country to be precise. Cyclones generally occur in the month of May-June and October-November, with a primary peak in November and secondary peak in May. Although cyclones affect the entire coast of India, the East Coast is more prone compared to the West Coast.
Where do cyclones occur in India?
More cyclones occur in the Bay of Bengal than the Arabian Sea and the ratio is approximately 4:1. An analysis of the frequency of cyclones on the east and west coasts of India between 1891 and 1990 shows that nearly 262 cyclones occurred on the east coast and 33 cyclones occurred on the west coast during this period.
The cyclones that occur between Tropics of Cancer and Capricorn are known as Tropical Cyclones. These are weather systems in which winds equal or exceed gale force (minimum of 34 knot, i.e., 62 kmph).
How many cyclones have hit India?
India has been hit by a number of cyclones since ages. However, 9 cyclones have proved to be the most dangerous, causing devastating destruction across the affected region.
Which states are the most cyclone-affected in India?
Indian sub-continent is the worst affected region of the world, having a coastline of 7516 kms. It is prone to nearly 100 per cent cyclones of the world.
There are 13 coastal states/Union Territories encompassing 84 coastal districts which are affected by cyclones. Four states - Andhra Pradesh, Odisha, Tamil Nadu and West Bengal and one Union Territory - Pondicherry on the East Coast are most vulnerable to cyclone disasters.
Although cyclones affect the entire coast of India, the East coast is more prone as compared to the West coast. An analysis of the frequencies of cyclones on the East and West coasts of India during 1891-2000 show that nearly 308 cyclones (out of which 103 were severe) affected the East coast. During the same period, 48 tropical cyclones crossed the West coast, of which 24 were severe cyclonic storms.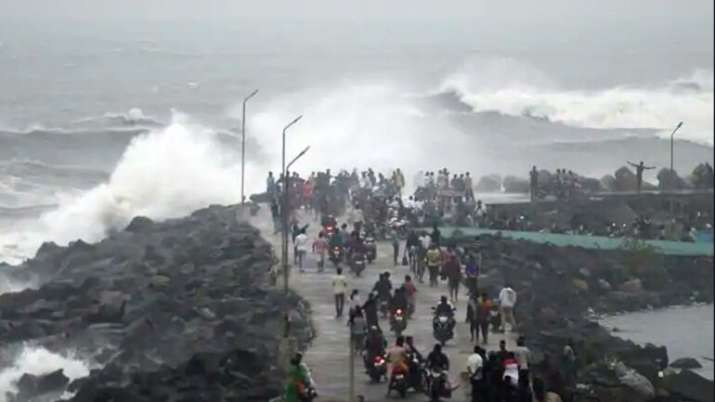 How are cyclones named in India?
Cyclones are strong spiraling winds characterized by low pressure and numerous thunderstorms.
Giving the tropical cyclones a name is a recent phenomenon, which involves the contribution of 8 countries. Cyclones are named under the aegis of the World Meteorological Organization and not just the Indian Meteorological Department.
Destruction caused by cyclones in India
Recurring cyclones account for a large number of deaths, loss of livelihood, loss of public and private property and severe damage to infrastructure. Cyclones are known to cause severe damage through high-speed winds and squall. Communication systems and trees are uprooted, which sometimes even result in the loss of life or property.
Inland flooding and torrential rains are another side of the cyclones that bring destruction. Rain, along with a storm, actually add up to the fury of the storm.
Cyclones also lead to an abnormal rise of sea level, especially near the coastal areas. As a result, seawater inundates low lying areas of coastal regions, destroys vegetation, erodes beaches and embankments.
How are cyclones managed in India?
A number of structural and non-structural measures can be adopted for effective management of cyclones.
The structural measures include construction of cyclone shelters, construction of cyclone resistant buildings, road links, culverts, bridges, canals, drains, saline embankments, surface water tanks, communication and power transmission networks etc.
Non-structural measures involve early warning dissemination systems, management of coastal zones, awareness generation and disaster risk management and capacity building of all the stakeholders.
And now, we bring you 9 of the deadliest cyclones in India
Cyclone Fani - 2019
Fani was termed as an extremely severe cyclonic storm that hit the Indian state of Odisha this month. It left behind a trail of destruction killing over 40 people, uprooting trees and communication system, thus crippling the state's economy and normal life.
Fani rapidly intensified into an extremely severe cyclonic storm and reached its peak intensity on May 2, as a high-end extremely severe cyclonic storm. It was equivalent to a high-end Category 4 major hurricane.
Cyclone Ockhi - 2017
Cyclone Ockhi was the most intense and one of the strongest tropical cyclone of the 2017 North Indian Ocean cyclone season. Ockhi from the Arabian Sea affected mainland India along with coastal areas of Kerala, Tamil Nadu and Gujarat. A total of 245 people were killed as an impact of this cyclone, other than a massive trail of destruction throughout the affected states.
Cyclone Vardah - 2016
Cyclone Vardah brought heavy rainfall to Andaman and Nicobar Islands and then crossed the eastern coast of India and affected Chennai, Kancheepuram and Visakhapatnam. 38 people had lost their lives in the aftermath of the cyclone. Originating as a low-pressure area near the Malay Peninsula on December 3, the storm designated a depression on December 6. It gradually intensified into a Deep Depression on the following day, skirting off the Andaman and Nicobar Islands, and intensified into a Cyclonic Storm on December 8.
Cyclone Hudhud – 2014
Cyclone Hudhud was a strong tropical cyclone, which caused damage to Visakhapatnam in Andhra Pradesh. Visakhapatnam or Vizag along with Odisha was mostly affected by Hudhud. At least 124 people had lost their lives as strong winds and heavy rain swept across the state bringing in massive destruction.
Cyclone Phailin – 2013
Extremely severe cyclonic storm Phailin was the most intense tropical cyclone to make landfall in India since the 1999 Odisha cyclone. The system was first noted as a tropical depression on October 4, 2013, within the Gulf of Thailand, to the west of Phnom Penh in Cambodia. Over the next few days, it moved westwards within an area of low to moderate vertical wind shear, before as it passed over the Malay Peninsula, it thereafter moved out of the Western Pacific Basin on October 6. The death toll in this cyclone stood at 45.
Cyclone Helen – 2013
Severe cyclonic storm Helen was a relatively weak tropical cyclone that formed in the Bay of Bengal Region on November 18, 2013, from the remnants of Tropical Storm Podul. It was classified as Deep Depression BOB 06 by the IMD on November 19. Cyclone Helen brought heavy rainfalls in eastern India and killed at least 11 people.
Cyclone Nilam – 2012
Cyclonic storm Nilam was the deadliest tropical cyclone to directly affect South India since Cyclone Jal in 2010. It made landfall near Mahabalipuram on October 31 as a strong cyclonic storm with peak winds of 85 km/h (50 mph). In Chennai's Marina Beach, strong winds pushed piles of sand ashore and seawater reached nearly a 100 m (330 ft) inland. Schools and colleges in the city remained closed for more than three days. The death toll in this cyclone was recorded at 75.
Cyclone Phyan – 2009
Cyclonic storm Phyan developed as a tropical disturbance to the southwest of Colombo in Sri Lanka on November 4, 2009. Over the next couple of days, the disturbance gradually developed before weakening, as it made landfall on Southern India on November 7. Cyclone Phyan caused heavy rainfall in Tamil Nadu, Maharashtra and Gujarat. Phyan was one of the wettest cyclones in India and brought extremely heavy rainfall of over the coasts of Karnataka, Goa and Maharashtra.
Odisha Cyclone – 1999 – Strongest
The 1999 Odisha cyclone was the strongest recorded tropical cyclone in the North Indian Ocean and among the most destructive in the region. It organized into a tropical depression in the Andaman Sea on 25 October. The disturbance gradually strengthened as it took a west-northwesterly path, reaching cyclonic storm strength the next day.
The storm maintained this intensity as it made landfall on Odisha on 29 October. The cyclone steadily weakened due to persistent land interaction and dry air, remaining quasi-stationary for two days before slowly drifting offshore as a much weaker system; the storm dissipated on 4 November over the Bay of Bengal.
The devastation lead to 15,000 deaths, displaced thousands. Damage sustained to various sanitation infrastructure led to a heightened risk of communicable disease outbreaks; indeed, diarrhea and cholera saw increased incidences following the storm's impact. Within a month of the cyclone's landfall, the Odisha state government reported 22,296 cases of diarrheal disorders.