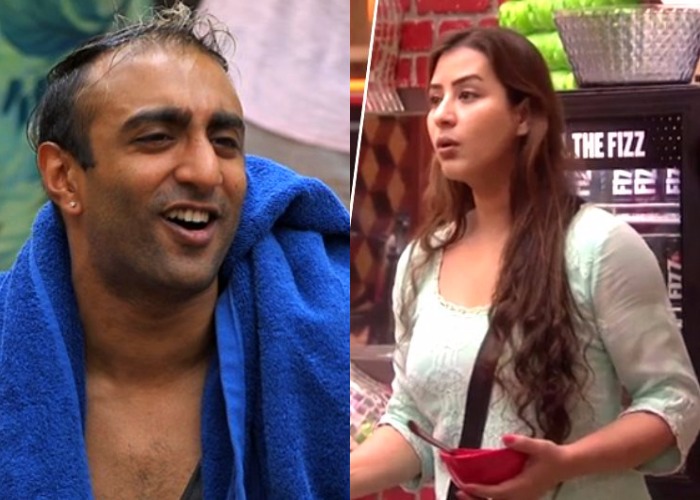 Earlier this week, Akash Dadlani was under the scanner for kissing his co-contestant Shilpa Shinde without her consent. The most disgusting fact was that Akash was one among those who revered Shilpa as their 'Maa', calling her 'Shilmaa' fondly. But after his ghastly act, Twitter was outraged. People who saw the video dubbed Akash as a molester and his act no less than sexual harassment. His actions towards women have been disrespectful throughout the season. But now he crossed all his limits.
Bigg Boss 11: Akash Dadlani forcibly kisses Shilpa Shinde in unseen video. 'Sexual harassment', says Twitter
In MTV Extra Dose, Akash Dadlani says that he wants Shilpa Shinde to be his wife. Pathetic! This is the same who used to call Shilpa his mother and now he stooped so low that he expressed his desire to wed the same woman. Fans reaction was obvious. Everyone is calling out at host Salman Khan to evict this 'molester' ASAP!
You can watch the video here
In the video, Akash and Shilpa were sitting at the dining table and having a conversation. Akash asks, "Why do you keep looking at me like that? Do I look funny?" To this Shilpa gives a nod. He then quickly says, "I keep thinking I wish you were my wife. Why did you grow so old quickly?" He expressed disappointment on the fact that Shilpa is a tad older than him.
Ex-Bigg Boss contestant Andy also labelled this imprudent act of Akash Dadlani as 'sexual harassment'. Here's what he tweeted:
I'm shocked to see #AkashDadlani kissing @Shilpa_Shinde1 without her consent. That's sexual Harassment! But no one can take a stand unless Shilpa does so 1st. But it so wrong ! https://t.co/Kz3VUrfsTW

— Andy Kumar (@iAmVJAndy) December 6, 2017
Even in today's #MTVExtraDose #AkashDadlani was seen forcing himself on #ShilpaShinde
And we can clearly see #Shilpa is not at all comfortable#BiggBoss11

— Ketki ⚡💥 #Team Anti 🏏 (@KetkiLopez95) December 7, 2017
It's not only Shilpa Shinde whom he has misbehaved with. Earlier, he had an ugly brawl with Benafsha over some objectionable remarks on her body. He also asked Arshi Khan to apply body lotion to his body and even has the audacity to walk around the house in just a towel. He is the weirdest contestant in the Bigg Boss 11, who is turning out to be the most reproachable inmate among all. It's high time that Shilpa Shinde starts maintaining distance with this man and take a stand for herself.
.@BeingSalmanKhan@BiggBoss is Harboring A RAPIST MENTALITY #AkashDadlani in #BB11@rajcheerfull @ColorsTV @EndemolShineIND

Even if it is his strategy to Get Hit by Shilpa to get her Evicted
It's not gonna work

TAKE Action NOWhttps://t.co/EIMK8YjAPM

— HerdHUSH #BB12 (@HerdHUSH) December 7, 2017