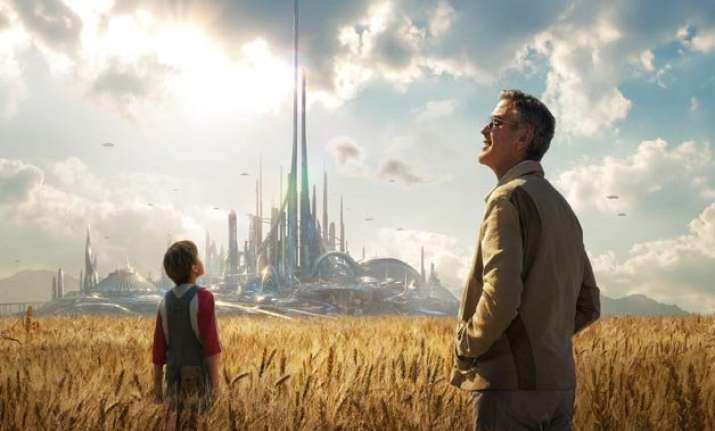 Los Angeles: The rides and roller-coasters of Disneyland here got a Hollywood twist with actor George Clooney attending the premiere of his forthcoming film "Tomorrowland" at the theme park with his wife Amal Alamuddin.
Clooney and Alamuddin brought along niece Mia Alamuddin to the red carpet event at Downtown Disney for the premiere of the Walt Disney adventure mystery, directed by Brad Bird, on May 9, reports variety.com.
The guests were transported away from the throngs of park visitors into a party world of their own, complete with no waits to ride on all of the land's attractions.
The film revolves around the story of a former boy genius Frank (Clooney), jaded by disillusionment, and Casey (Britt Robertson), a bright, optimistic teen bursting with scientific curiosity, embarking on a danger-filled mission to unearth the secrets of an enigmatic place somewhere in time and space known only as Tomorrowland.
Talking about the film, Clooney said it was the futuristic idea that attracted him.
"I liked the idea and how hopeful it was. I like that it decided how the future wasn't inevitable and there's something you can do about it," the actor said.
Produced by Damon Lindelof, Bird and Jeffrey Chernov, the film also stars Hugh Laurie, Robertson, Raffey Cassidy, Tim McGraw, Kathryn Hahn, Keegan-Michael Key and Thomas Robinson. The film will hit theatres on May 22.