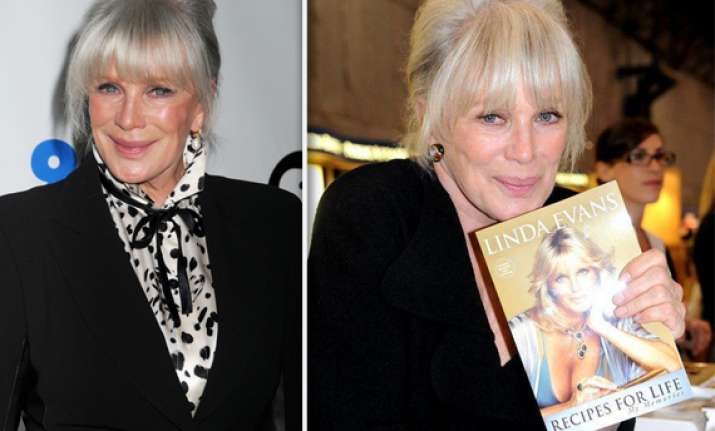 London, Dec 30: Actress Linda Evans has managed to share her passion for food, cooking and life in her new memoir 'Recipes for Life.'

Evans, best known for her iconic role as Krystal Carrington on "Dynasty" says throughout her life and successful career she would collect recipes. Some were from famous friends like John Wayne and world-renowned chefs. She shares many of those recipes in her book.

"We would go out and have dinner with John Wayne and his wife and have this fabulous food and I remember I said, 'Do you think I could get that recipe?' and he said, 'Well, ask him' so I said, 'Do you think I could have that recipe?' and he said, 'Sure, give the lady the recipe' and his wife gave me the recipe and I've got John Wayne's crab dip you know which I love and his green chili cheese casserole which he loved so much he used to have his wife put it on a piece of paper when he would go on location and she'd fold it up and put it in his pocket so the caterers could make it for him I mean just fun things in your life that you think, 'How great to share these with people.'"

Evans also shares her personal ups and downs like her marriage to John Derek, who famously left her for Bo Derek who was 30 years his junior. She says the reflection that came from writing the book helped her to appreciate even the low-points of her past.

"You know things that happen like your husband leaves you for a 15-year-old and you think 'My God I'd like to erase that moment' except if I hadn't had that moment happen I could never have done 'Dynasty.' I would never have the extraordinary all that was in the book for three quarters of the book would not have existed because my husband at the time didn't want me to work with anybody so I would never of had those experience so you look back and you actually bless the things that happened to you that were seemingly lousy and say, 'Wow! Thank God they happened.'"

69-year-old Evans says she would consider returning to acting. Resurrecting "Dynasty" may even be a possibility if the TNT reboot of other 1980's primetime soap "Dallas" is successful.

"It's embarrassing when you say 'No, I'd never do this' or 'I'd never do that.' I'm open as I said, 'What am I gonna do with the rest of my life?' since I'm planning to live a long life. I'm open."

"Recipes for Life" is on sale in bookstores now.