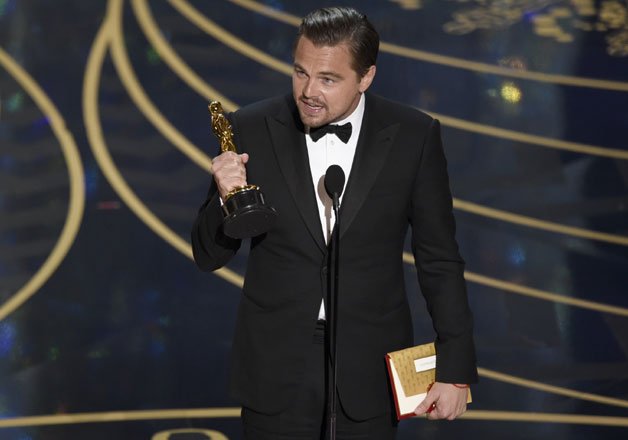 New Delhi: Hollywood actor Leonardo DiCaprio finally broke the jinx and took home his first Academy Award in the Best Actor category for his power-packed performance in "The Revenant" at the Oscars ceremony here.
DiCaprio, who had been nominated for the golden statuette four times before too, took home the coveted trophy at the awards ceremony, which was held at at the Dolby Theatre here on Sunday night.
It was a moment of celebration when Julianne Moore announced his name as the winner, and Dicaprio went on to the stage amid loud cheer. He even received a standing ovation.
While the actor was gracious for receiving his first Oscar award, he thanked everyone present at the event during in his acceptance speech.
Leonardo said, "Thank you! Thank you all so very much. Thank you to the Academy, than you to all in this room, I've to congratulate the other incredible nominees this year for their unbelievable performances. 'The Revenant' was a product of the tireless efforts of an unbelievable cast and crew I got to work alongside. First off to my brother in this endeavour Tom Hardy."
"Making 'The Revenant' was about man's relationship with the natural world. A world that we collectively felt in the 2015, as the hottest year recorded in the history. Our production needed to move to the southern tip of this planet just to find snow. Climate change is real. It's happening right now. It is the most urgent threat affecting our entire species. And we need to work collectively together and stop procrastinating. We need to support leaders around the world… Who do not speak for the big corporations, but who speak for all of humanity, for the indigenous people of the world, for the billions and billions of underprivileged people who are most affected by this, for our children's children and for those people out there whose voices have been drowned down by the politics of greed," he further added.
Leonardo DiCaprio ended his speech saying, "I thank you all for this amazing award tonight. Let us not take this planet for granted. I do not take tonight for granted, thank you so much!"
'The Revenant' had previously swept the 73rd edition of the Golden Globe awards and also clinched top honours at Baftas 2016.