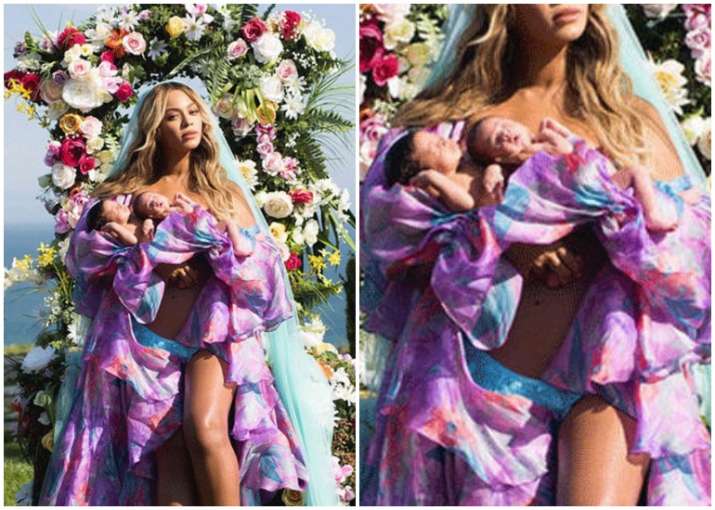 Fans were left regretting sleeping earlier Thursday night as Queen Bey posted the pictures of her adorable twins, Rumi and Sir at the wee hours of night. Beyonce Knowles uploaded the picture of her newborn twins on her official Instagram account. As we expected, it was glorious just like a queen Beyonce herself is. In the picture she's holding the babies close to her heart, dressed in a floral gown and a blue veil. She standing before a stand of flowers with the ocean in the backdrop. 
The picture shows resemblance to the one she posted announcing her pregnancy in February. The caption read, Sir Carter and Rumi 1 month today. Last night was the moment which Beyonce fans waited for with a bated breath. The fans were more than just overwhelmed to catch a glimpse of the second project by Beyonce and Jay-Z. 
Bey should've gave a warning!! I was NOT prepared for this tonight! #beyonce #beyoncetwins #cartertwins pic.twitter.com/7QMDF7E13S

— Mistleho ho ho 🤶🏾 (@jnnyfrmtheblocc) July 14, 2017
For the record. I was one of the first 2,500 people to like her post. We basically fam. #beyoncetwins #Beyonce pic.twitter.com/T1BYAOkL0J

— Ben (@benduffie) July 14, 2017
People who were awake were more than happy to be the first of the thousands to like the picture! 
A visual representation of #Beyonce and the whole world when she drops something: pic.twitter.com/ATNwyNdsbH

— MDB (@MDBSings) July 14, 2017
#Beyoncé I WAS LITERALLY ABOUT TO GO TO SLEEP THEN YOU HAD TO SNACH MY WIG !!!!!! #beyoncetwins ARE LEGENDARY pic.twitter.com/Z9vlRqDGSp

— fayslay_ (@fayslay_) July 14, 2017
Needless to say, but Beyonce's picture was met with the expected celebration on Twitters, owing to the fact that the popstar is one of the most famous celebrity on social media. This picture is also expected to be a hint that more pictures are going to follow this post. According to Entertainment Tonight report, Bey was spotted with her husband Jay-Z for a dinner at Malibu, California. It was her first public appearance ever since the birth of her munchkins. 
The superstar singer married her rapper husband Jay-Z in 2008. They also have a five-year-old daughter Blue Ivy. 
Must Read: 
Beyonce and Jay Z's twins unwell, undergoing jaundice treatment
Beyonce and Jay Z blessed with twins, granddad Mathew Knowles confirms
For more entertainment updates follow our Facebook page